Wacom & E Ink develop pen-input ePaper displays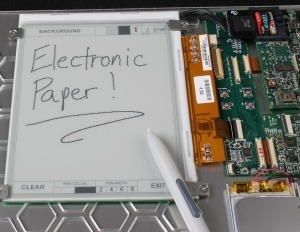 Digitizer specialists Wacom and e-paper manufacturers E Ink have announced a deal that will see the former's digital ink technology incorporated into the latter's low-power, paper-like electronic displays.  It will open up the market for eBooks and newspapers that can be annotated and those notes stored and exchanged.  The pair are describing the development as "the ultimate vision of an interactive piece of paper."
Wacom's technology has been widely used by most Tablet PC manufacturers, including Lenovo, HP, Toshiba and Motion.   It relies on a battery-free, cordless pen and a digitizer layer sandwiched under the display.  E Ink, meanwhile, have recently announced their Vizplex e-paper technology, that offers sunlight readability and low weight in an ultra-thin, low-power package.  E Ink displays are used in many of the eBook readers on the market, including the Amazon Kindle, Sony's Reader and iRex's range.
The first commercial products are yet to be announced, but E Ink have updated their Broadsheet AM300 prototype kit with a Wacom option for developers to experiment with.  It will be available in June with a 6-inch 3-bit greyscale e-paper display, and other sizes available later in the year, and is based around the Gumstix single-board computer, which combines a Marvell XScale PXA255 processor with a Bluetooth transceiver, USB, a serial port and an MMC card reader.  It and the 5-inch version are available for pre-order now, priced at $3,000.