Mouse Computer DVD-burning netbook spotted in wild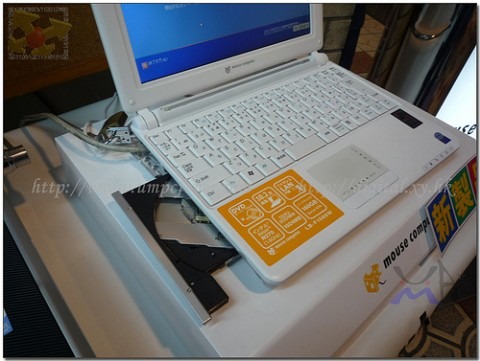 Mouse Computer's optical-drive toting netbook has been spotted in Osaka, flaunting its 10.2-inch screen and DVD burner.  The LB-F1500W (and we now know that 'LB' bizarrely stands for "Luv Book") is a generally standard netbook with Intel's Atom N270 1.6GHz processor, 1GB of RAM and 160GB storage, but you sacrifice the typical third USB 2.0 port to make edge-space for the rare drive.
Battery life is still being quoted at 5.2hrs, though we doubt that includes much – if any – optical drive use.  Ports are two USB 2.0, VGA out, audio in/out and a 4-in-1 memory card reader, plus there's WiFi b/g but no Bluetooth.
There's no telling whether the Mouse Computer LB-F1500W will make it out of Japan.  Minimal demand for a netbook with a built-in DVD drive is one limiting factor, but the more significant drawback right now is the strong yen: on sale for 64,800 yen in Japan, that works out to a whopping $729.