Motorola XOOM WiFi priced and dated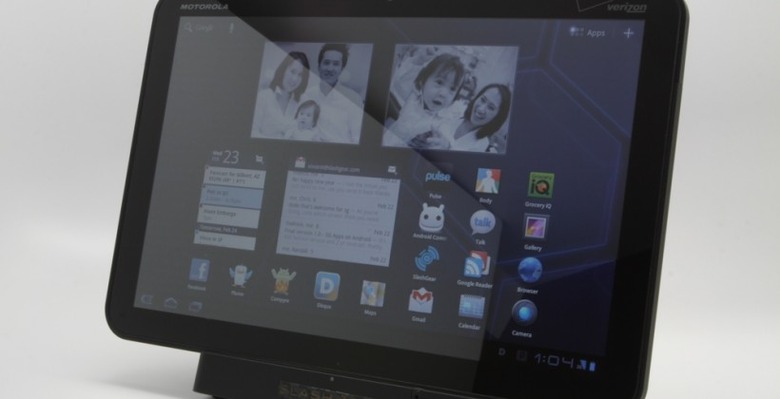 Motorola has been muttering about the WiFi-only XOOM for months now, but the company has only just got around to making its release schedule official. As of March 27, the XOOM WiFI Edition will arrive at US retailers, priced at $599 with 32GB of onboard storage.
Amazon, Best Buy, Costco, Radio Shack, Sam's Club, Staples and Walmart should all have the Android 3.0 Honeycomb slate on their shelves, virtual or otherwise, which comes as little surprise as we've seen leaked pricing and details from most of them at one point or another over the past few weeks. Lest you've forgotten, the 3G-enabled – and 4G promised – XOOM is available for $599 on Verizon, albeit with a two-year data agreement. The carrier will demand $799 if you want the flexibility of going month-to-month.
We reviewed the XOOM 3G – along with Honeycomb – last month, finding it an interesting alternative to the iPad, if a little part-baked at this early stage. The release of Flash Player 10.2 on March 18 will go some way to addressing that, however.
[via Android Community]
Press Release:
Motorola Mobility Brings MOTOROLA XOOM™ Wi-Fi to United States

March 16, 2011

LIBERTYVILLE, Ill. – March 16, 2011 – Motorola Mobility Holdings, Inc. (NYSE: MMI), today announced the upcoming availability of MOTOROLA XOOM™ Wi-Fi edition from leading retailers across the United States starting March 27. Amazon.com, Best Buy, Costco, RadioShack, Sam's Club (select locations), Staples and Walmart will be offering the 10.1-inch widescreen HD tablet with Android™ 3.0 (Honeycomb) through both online and retail store channels. The MSRP for MOTOROLA XOOM Wi-Fi with 32 GB of memory will be $599.

"MOTOROLA XOOM is a truly innovative tablet – its design, coupled with being the first tablet to have Android 3.0, results in a user experience that is one-of-a-kind," said Dan Papalia, vice president of retail sales for Motorola Mobility. "We are now continuing to expand the choices available to consumers with the MOTOROLA XOOM Wi-Fi to be available soon from numerous leading retailers in the United States."

In addition, the MOTOROLA XOOM Wi-Fi will be available to commercial IT channels and regional retailers through a distribution agreement with Synnex Corporation, and regional carriers through Brightpoint, Inc.

MOTOROLA XOOM showcases the innovations of the Honeycomb user experience – including widgets, true multi-tasking, browsing, notifications and customization – on a 10.1-inch widescreen HD display, enabling video content that's richer and clearer than ever before. With a 1GHz dual-core processor and 1 GB of RAM, MOTOROLA XOOM delivers exceptionally fast web-browsing performance. The latest Google Mobile services include Google Maps 5.0™ with 3D interaction and access to more than 3 million Google eBooks and apps from Android Market™. MOTOROLA XOOM also supports a Beta of Adobe® Flash® Player 10.2 downloadable from Android Market, enabling the delivery of rich Flash based web content including videos, casual games and rich Internet applications.

As the first device running Android 3.0, MOTOROLA XOOM benefits from our aggressive work with developers across the ecosystem through MOTODEV, Motorola's developer support program to enable world-class tablet and smartphone experiences. These devices will be able to access more than 150,000 applications within the Android Market as well as the rapidly increasing number of applications optimized directly for the Android 3.0 OS. In addition, thousands of Flash-based web applications and sites will become available for the MOTOROLA XOOM.

As a part of the company's commitment and leadership — along with Google's — to the Android ecosystem, Motorola announced a series of global developer events in 11 cities across North America, Europe, Latin America and Asia. These MOTODEV events give developers access to tools, support and Motorola's team of Android experts. The first of these events was hosted in San Francisco on March 1 and had more than 665 developers in attendance.

MOTODEV also recently announced a new testing and certification program for Honeycomb applications, encouraging developers to submit their applications to get early feedback and support on MOTOROLA XOOM performance. This is a part of the company's ongoing commitment to supporting the ecosystem in delivering high quality experiences to the consumer.

More information about MOTODEV tools, resources and events can be found at http://developer.motorola.com.