Motorola XOOM 4G LTE Upgrade Starts Tomorrow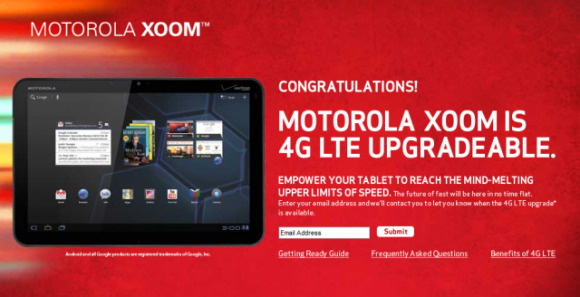 The Motorola XOOM will finally be getting its long promised 4G LTE upgrade starting tomorrow. When the tablet first launched back in February, customers were told that it would initially only support 3G and that a 4G upgrade would be arriving shortly, but that was delayed to late summer with a time frame of sometime in September. Thankfully, the wait should be over soon, with the upgrade program kicking off tomorrow.
The upgrade process requires users to mail in their Motorola XOOM tablets so that Verizon can physically insert the required 4G LTE component. Verizon had already begun testing this process back in August with a pilot group of just business and government users. And now, according to AllThingsD, Verizon is ready to roll out the upgrade program in full force and the process should take about six business days.
Customers will not be required to change their data plans afterwards if they choose to remain on the 3G network. Rooted Motorola XOOM devices are also accepted for the upgrade program, but all Motorola XOOM owners are encouraged to backup their data as the upgrade could reset their tablets. An email should go out tomorrow to registered Motorola XOOM owners with instructions on how to proceed with the 4G upgrade.