Motorola XOOM 2 and Spyder leaked photos appear

When a leaked set of photos of a device, or in this case two devices: the Motorola Spyder (aka DROID RAZR) and XOOM 2, are released with carrier logos splayed across them, it generally means that release time is near. We've learned this year that this isn't always true, but on the whole we can judge a leak by its cover. Here what we're seeing is a brand new handset and a second-generation tablet on the way straight out of the generally-ok photo takers hands. Motorola, will you bring the heat inside 2011?
The XOOM 2 here is in its 8.2-inch form, looking pretty sassy with a big white ring of grip around the back panel. It's got a camera up along the short end of the back of the device as well, plus a portrait-angled Motorola M so you know which way they intend for you to hold it. From what we've seen of Honeycomb, portrait mode isn't exactly its strong point. Could this tablet be made specifically for Ice Cream Sandwich? Think about it!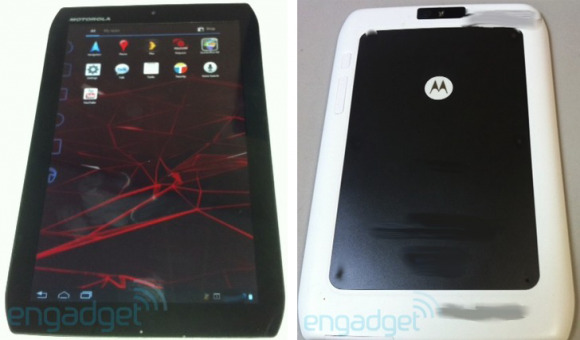 Then there's the Motorola Spyder, looking rather similar to the XOOM 2 in form, what with the slightly bent-in corners and overall pill-looking shape. The back is where the this device appears to shine, what with the uniqueness of the camera panel area and the wavy looking way in which we must assume we'll be holding the handset. Both of these devices are not brand new to our radar, find out everything we know by heading to the portals:
Gotta catch em all!
[via Engadget]