Motorola washing hands of budget cellphone production?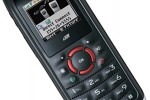 Motorola are seemingly clearing their plate to focus on their upcoming mid- to high-end handsets, with the news from China being that the company have outsourced production of all of their entry-level models.  According to the United Daily News, any handset costing under $150 moving forward will be built by a third-party, potentially over 40 million devices per year.
Motorola have apparently selected MediaTek as their chip supplier for the basic cellphones.  Earlier in September, an analyst predicted that Motorola would product ten Android-based handsets in the next 6 to 10 months, though the company themselves are yet to comment.