Motorola tips Moto G unveil for November 13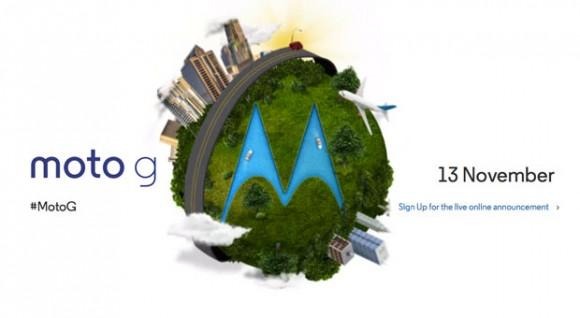 It's not exactly a closely held secret that Motorola plans to roll out a new budget focused smartphone soon. The first rumblings we heard about the Moto G budget smartphone came back in late October when the device was tipped to be a cheaper version of the Moto X. Shortly after we first heard of the Moto G, the smartphone briefly surfaced on Motorola's website before being pulled.
Only a few days ago a leaked holiday promo for the Moto G turned up showing features of the smartphone. The leak showed 8 GB of integrated storage, a QUALCOMM 1.2 GHz quad core processor, five-megapixel rear camera, and a 1.3-megapixel front camera. The screen is tipped to be a 4.5-inch unit with a resolution of 1280 x 720.
The operating system is Android 4.3 and the phone is capable of recording 720p HD resolution video. Rumors suggest the device will be available for $215 off contract. Motorola has now begun to tease the official unveil of the Moto G. Motorola says that the official unveil will be November 13.
Motorola has a website in place for the device and is inviting users to sign up for more details on the smartphone when they're available. We already know the details, assuming that previous leak was correct. The only thing we really don't know is the official price.
SOURCE: Engadget