Moto G smartphone leaks in holiday-themed promo card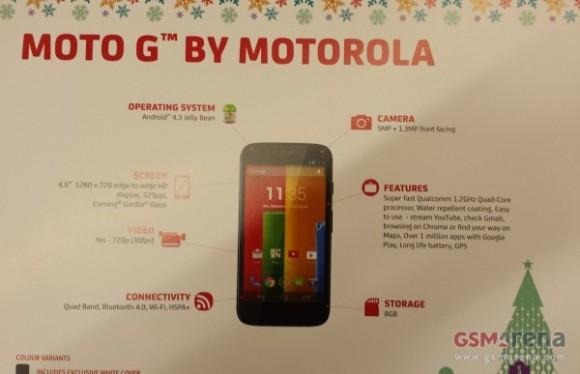 A couple days ago, the Motorola Moto G cropped up in a listing sans-specs and details on Motorola's website, only to be pulled a short while later. Since then, the handset has appeared in various leaks and rumors up to today, where it has been spotted in a holiday-themed promotional card that was intended for "Phones4u," a retailer in the United Kingdom.
The promo cards shows us a front shot of the handset, but even better, it lists some mid-range specifications to give a better idea of what we can expect from the next Motorola phone. With the handset comes a 4.5-inch 1280 x 720p resolution edge-to-edge display with Gorilla Glass covering for an extra dose of protection.
Under the hood, the Moto G runs a 1.2GHz quad-core processor, which may very well turn out to be a MediaTek offering given the handset's modest specs and low price tag of $215 unsubsidized. There is 8GB of internal storage space, which is double what the low-end devices typically offer — there's no mention of an SD card slot, though that doesn't mean there isn't one. There's also no mention of how much memory the handset is running.
Around back, the Moto G has a 5-megapixel rear camera with a maximum video recording of 720p HD. There is also a 1.3-megapixel front-facing camera. Connectivity includes Bluetooth 4.0, and unfortunately there's no KitKat on board, with it instead running Android 4.3 Jelly Bean. While there's no release date mentioned, the Christmas tree on the bottom of the card indicates that we'll be seeing it any time now.
SOURCE: GSM Arena