Motorola's RAZR reboot with a foldable display has leaked, with images showing the Galaxy Fold-rivaling clamshell emerging ahead of its expected debut in November. Chatter of a return of the iconic RAZR name has been circulating for some time now, with Motorola said to be tapping flexible OLED technology in order to squeeze a big display into a much smaller form-factor.
That's been enough to whet the appetite both of RAZR aficionados and foldable phone fans alike, but until now we've not really known much about what the resulting smartphone might look like. An invitation leaked earlier this month suggested the foldable RAZR could debut on November 13.
Turns out, we don't have that long to wait. Leaked images of the RAZR from multiple angles, and in both an open and closed state, have emerged to spoil the surprise. Dutch site Mobielkopen shared several images of the RAZR.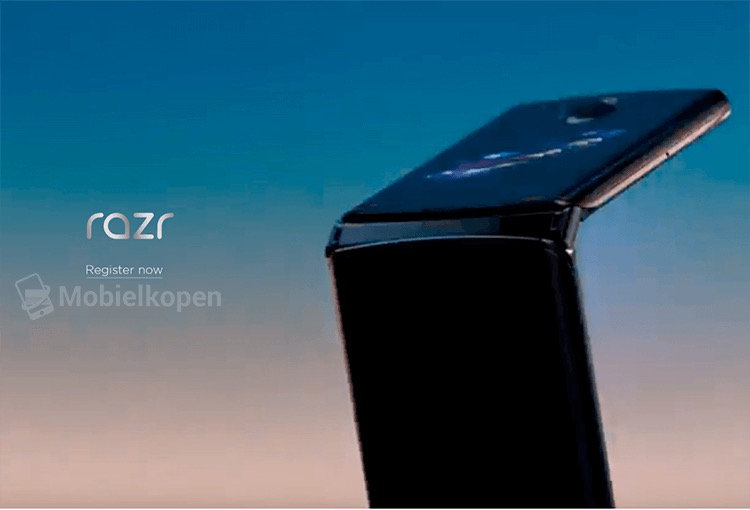 It's definitely a familiar design. Motorola has stuck with the double-thickness "chin" of the original RAZR clamshell, with the upper section opening out to almost double the phone's height. That's believed to permit a 6.2-inch OLED screen.
On the outside, there's a smaller secondary screen. That'll be more compact than the Galaxy Fold's external display, and likely less functional. Where Samsung allows most Android apps to be used – albeit with a compact UI – on its external touchscreen, Motorola is believed to be reserving the new RAZR's outer display for a small subset of features. It's believed to clock in at a mere 600 x 800 resolution.
Look closely, and you can see the differences where the flexible display have been accommodated. Most notably that's in the hinge. Where the original RAZR had a single point of rotation, this new phone has a dual-hinge design.

Much like the Galaxy Fold's dual-hinge, it means the flexible display can curve around rather than need to make a full 180-degree bend. The latter is still beyond the capabilities of flexible OLED, assuming that is you want it not to crack and break. In this new RAZR's favor, though, is that it appears Motorola has figured out how to have the two halves of the smartphone fold flush when closed, unlike the gap that remains when the Galaxy Fold is shut.
Samsung may well close that gap itself, however, even if it's not in time for the Galaxy Fold. The company previewed a foldable phone design with a portrait-aspect display at its annual SDC developer event this past week, confirming it was exploring new form-factors for the display technology. The idea that the Galaxy Fold 2 could adopt such a design has already been suggested.
The advantage is arguably easier to justify than the Galaxy Fold's phone-to-tablet design. Smartphones with 6.2-inch displays, or thereabouts, aren't especially rare these days, but they do require a sizable pocket to accommodate them. If manufacturers could fit such a panel into a smaller, folding design, it could not only allow the touchscreen to be protected when the device was closed, but that still allows for maximum functionality when opened back up again.