Motorola Medfield phone images leaked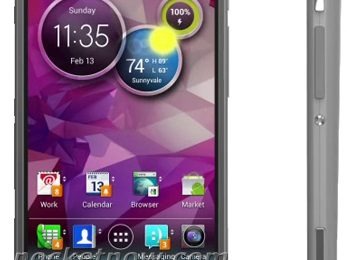 The folks at Motorola have had their next Android device leaked, it appearing to have Android 4.0 Ice Cream Sandwich onboard and tipped to be running an Intel-Powered Medfield processor powering it. This device has many hardware details appearing like the DROID RAZR and the DROID 4 that've been released just recently, a power button, volume up/down, and physical camera button all on the right side. This device would be the second device revealed to have the Medfield chip aboard, the first shown by Lenovo at CES 2012.
The renders you're seeing here seem awfully light compared to the all-black metal devices Motorola is prone to releasing with Android, and the Android 4.0 Ice Cream Sandwich interface appears to have been bent over backwards to work with Motorola's own user interface, icons and all. This leak could very well be a falsified bit of evidence, but it's certainly an interesting one nonetheless.
This device has been tipped as having an instant-on capable camera with 15 frame-per-second burst capture. This lines up decently with the rest of the camera upgrades the rest of the industry has been pushing over these past few months in light of the idea that users actually care how nice their smartphone-based camera is. Need to grab those quality photos and videos or its all for naught! Have a peek in the timeline below for additional Medfield news and leaks.
Also note that if this device does turn out to be real, we'll likely see it at Mobile World Congress 2012 – and we'll be there to let you in on the business as it goes down!
[via PocketNow]