Motorola DROID Ultra spotted in wild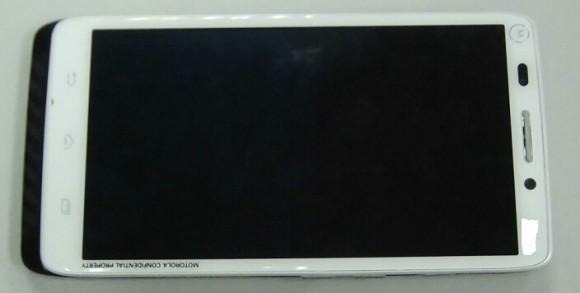 Motorola's upcoming DROID Ultra smartphone has apparently leaked, with the new Android smartphone – which Motorola itself spilled the partial-beans on earlier this month – being caught in the wild. The image, shared at XDA-developers, comes with no hardware details, so it's hard to say exactly what we're looking at, though Motorola has already confirmed that the DROID Ultra will use tough Kevlar in its construction.
Interestingly, the prototype – etched, no less, with "Motorola Confidential Prototype" along the bezel – has capacitive touch-keys for back, home, and the app-switcher. That's at odds with Motorola's more recent designs, which have followed Google's own guidelines and switched to on-screen softkeys.
That could imply that this is an early design, one that Motorola was working on prior to Google's involvement in its development pipeline, or just a decision that dedicated keys are more useful.
Otherwise, we're expecting a slim and tough handset, with Motorola taking advantage of Kevlar's inherent strength and its ability to be formed into different shapes to make a rugged-style device without the typical bulk. That might follow in the footsteps of Samsung's Galaxy S4 Active, which offers many of the benefits of a "tough" phone but without the clunky styling.
According to FCC filings spotted recently, the Motorola DROID Ultra will have support for Verizon's 4G LTE network, along with NFC and Bluetooth 4.0. There'll also be WiFi 802.11ac support.
Speculation suggests a bigger screen size than that rumored for the MOTO X we're expecting to see launch imminently, with that context-aware handset tipped to have a 4.7-inch touchscreen. Something 5-inches or bigger would pit Motorola and the DROID Ultra against phablets from Samsung and others.