Motorola DROID RAZR HD for Verizon leaks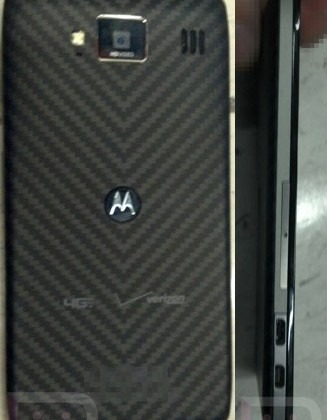 Another day another leak here for Motorola. After seeing the first press image of what is rumored to be AT&T's Motorola Atrix 3, we now have a leaked photo of the upcoming Verizon Motorola DROID RAZR HD. Showing the full Kevlar backplate and sleek design of the new version, looking very similar to the original DROID RAZR other than a few minor changes. It looks like Motorola went full Kevlar on the back, and got rid of that plastic border around the device. More details after the break.
The RAZR HD has been spotted more than a few times, and even confirmed for Verizon but this appears to make it official. Clearly showing the Verizon and 4G LTE logos on the back, as well as that large camera and LED flash. According to Droid-Life the tipster claims the device has an amazing display, will be rocking a 13 megapixel camera (like the one we saw in China) and has received the same massive battery as the RAZR MAXX.
The report suggest the all new RAZR HD will obviously come with an improved 720p HD display, but be paired with a huge 3,300 mAh battery for days of battery life. Along with Android 4.0 Ice Cream Sandwich and on-screen navigation keys the phone is rumored to also be running the Qualcomm S4 Snapdragon 1.5 GHz dual-core processor, just like the Motorola Atrix 3 that leaked this morning. There's not much else to report on for the new Verizon RAZR at the moment, but we'll keep our eyes and ears open.