Motorola Droid Bionic $299 Ad Leak Appears To Be Photoshopped

In what appeared to be a leaked Verizon ad or landing page for the new and upcoming Motorola Droid Bionic a few keen eyes quickly saw what appeared to be a faked, or photoshopped image. Our good friends over at AndroidCommunity were quick to spot the discrepancies and tear apart the article.
The original image ran over on androidcentral with all those details we already knew such as the 4.3" display, dual-core TI OMAP processor and more, but then they added a photo that was the DROID DOES landing page we all know — it just looked different. The leak also showed a suggested price tag of $299 for the Bionic and that lines up with previous pricing on LTE handsets for Verizon such as the Droid Charge, but with the Bionic being both dual-core and LTE the price could very well be different. It pains me to see sites throw things like the above image up just for hits, or whatever it may be but at least the community was quick to spot the differences.
Without getting too deep into details it looks as if the image was pieced together by a few tricky photoshop users. I don't fully understand this next link but I'll let you guys be the judge. This is a test to see how many layers an image has, and how many times each layer has been saved — check it out. Pretty interesting results to say the least. Images like the one below also just seem a bit odd and totally different don't you think?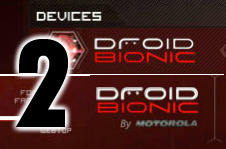 We are all excited to see what the Droid Bionic brings to the table. It recently passed the FCC, then we saw leaks from Best Buy and we already knew it was coming soon so why get everyone excited for nothing until it's actually official? Verizon has a sign-up page for those interested in hearing more details as well. With no other details other than these few links above it pains me to see something like the price leaked only to find it not to be completely accurate.
Either way we are all excited about the upcoming Droid Bionic and can't wait to get our hands on the blazing fast dual-core and 4G LTE working together in harmony. The entire launch of this device has been a bit of a mess but once we get it in for review I'll probably forget all about the leaks, delays, and other gibberish. Stay tuned as we will have it for review as soon as possible.
[via Android Community]