Motorola DEFY PRO targets bored BlackBerry users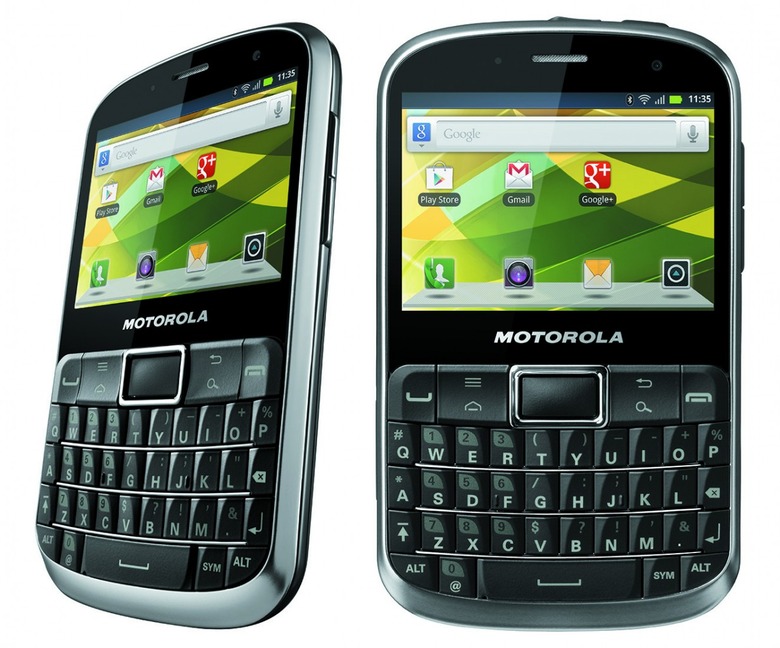 It's obviously the week for Android QWERTY candybars, with Motorola following Samsung's Galaxy Chat with a touch-and-type of its own, the Motorola DEFY PRO. Built around a thumbboard and a 2.7-inch touchscreen, the DEFY PRO is targeted at the business user who might be bored with their BlackBerry, promising document handling as well as multi-mode support for work and play.
On the back there's a 5-megapixel camera, with autofocus and an LED flash, and a front-facing camera above the display does for video calls. You also get WiFi and Bluetooth, along with DLNA streaming support and a 2GB card preloaded into the microSD slot.
Motorola has preset three different "Views" for different activities. Outdoor View prioritizes the weather; Hiking View uses the phone's compass and GPS for navigating the wilderness; and Workout View offers a pedometer and calorie count, together with a stopwatch.
It's not exactly the most inspiring of Android phones, but candybar-format devices with both QWERTY and touch are still relatively rare in the market, so fans have to take what they're given. The Motorola DEFY PRO will go on sale in Brazil by July 15, the company says. No word on pricing, nor indeed if other countries will get the handset.