Motor Trend names 2014 Cadillac CTS Car of the Year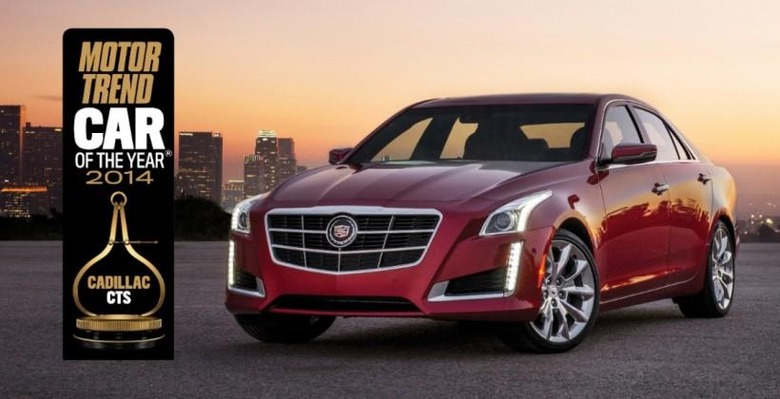 This week the folks at Motor Trend have unveiled their 2014 Car of the Year award as going to the 2014 Cadillac CTS. This award works with a variety of vehicles, open to any "all-new" or otherwise substantially upgraded 2014 model car – including 22 models and seven finalists up for battle this year.
The folks at Motor Trend put each vehicle through a series of tests, starting with drives on three separate courses at professional automotive test centers. There's also a real-world road loop which works with a variety of conditions the vehicle must roll through, and a wide variety of elements are considered. Amongst those elements considered are the following:
- Ride and Handling
- Engine Smoothness and Responsiveness
- Transmission Smoothness and Responsiveness
- Noise from wind and road
- Overall Ergonomics
There's also a series of criteria that are tested and rated, each of these being racked up quite favorably for the 2014 Cadillac CTS, as it was proven this year:
- Design Advancement
- Engineering Excellence
- Efficiency
- Safety
- Value
- Performance of Intended Function
You'll find that this is the second time in six years that a Cadillac CTS model has been selected. This year the other seven finalists to made the grade were the BMW 4 Series, Mazda3, Chevrolet Corvette, Mazda6, Jaguar F-Type, Mercedes-Benz S-Class, and the Kia Forte.
The 2014 Cadillac CTS is the first vehicle to work with the brand's own eight-speed automatic and is rolling out for a cool $46,025 USD, that including a $925 destination charge. This is not the first, nor even just the second time Cadillac has won this particular award. Since Cadillac won the Motor Trend Car of the Year award in 1949, the brand won three more times: as a brand once more in 1952, for the 1992 Seville Touring Sedan, and once more with the second-generation Cadillac CST sedan for the year 2008.
For more on the ever-evolving world of Cadillac, have a peek at SlashGear's Cadillac tag portal. Meanwhile SlashGear's Car Hub continues to expand by leaps and bounds!