Moto X leaks in up-close video tour
This afternoon, a video showing off the basics in the Motorola Moto X software experience have been leaked complete with several next-generation innovations for Android vanilla software builds. If you're planning on picking the Motorola Moto X up inside Canada, it would appear that your only choice will be to jump onboard with Rogers. This video suggests that the smartphone will be a Rogers exclusive while we're confident that here inside the USA, multiple carriers will be onboard with the machine.
This video suggests that the carrier will be bringing Moto X in August of this year in white or black, a likely indicator of availability at other carriers inside the USA, while Motorola handles the customization features we've heard so much about already. If this device does indeed come to Rogers by August, we can expect at least AT&T and/or T-Mobile to be onboard with the device by then as well. Meanwhile Verizon has been tipped to be launching the phone on August 23rd specifically.
In the demonstration you're about to see here, Rogers representatives show the Moto X's ability to work with Google Now as well as active voice recognition. While the user works on a PC, the smartphone is able to sit to the side and listen in for questions the user might have, actively answering in kind whenever needed.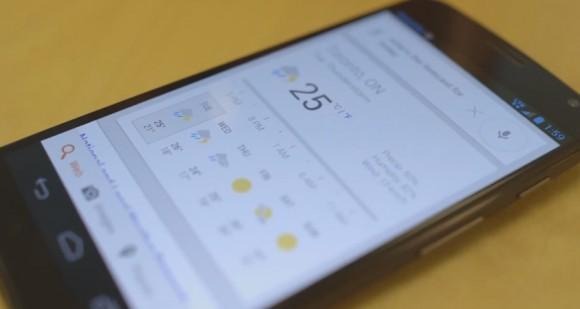 You'll also find this machine's ability to launch it's camera at a flick of the wrist. Taking the Moto X out of one's pocket and flicking it twice launches the smartphone's camera, while tapping its screen will take a photo. Holding a finger down on the display while the camera app is open will take several photos in quick succession.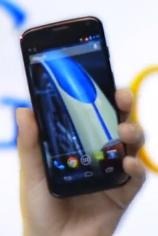 This device also works with "Active Updates", as they call them, showing what's happening with notifications on-screen instead of with a notification light. You'll find this particular model showing a message coming in from Facebook Messenger, disappearing after a few moments as the user decides they've heard enough for the day.
The Moto X here is shown in black and, in several close-ups, is proven to be working with black all around – back cover, bezel, edges and all. The white model seen last week was suggested as coming with black bezel and edges while its battery cover worked with a textured white. This machine also appears to be working without a removable back as indicated by the microSIM card slot on its side.
Don't forget the pure Android experience from top to bottom, also – barely seen but quite apparent here in brief.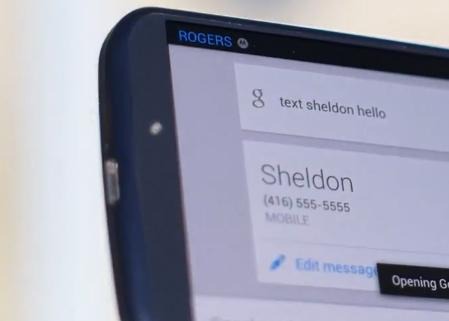 You'll also see a light emitting from this device's microUSB port – this could just be leaking from the device's inner bits, but it's just as likely there's some use for this piece of flare than not. Keep tuned as we continue to run down the investigation!
BONUS: Motomagic! Aka Open Mic – as described by SlashGear at length.
VIA: AusDroid; Android Community