Moto X unveiling event to be followed up with star-studded after-party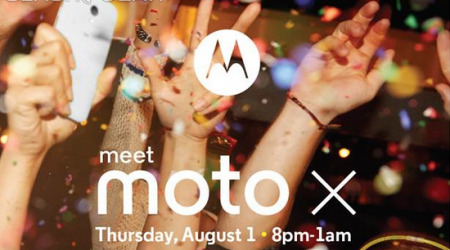 On July 19, Motorola fired out a pre-event invitation to a Moto X event on August 1 in New York, prepped to bring the full device details to light. Now it has sent out another invite, this time bringing on a secondary event – a party, of sorts, full of big names in custom-fitted fun. In addition, the Moto X makes a somewhat candid appearance in the latest invite, more so than in the last one.
The latest invite includes both another look at the user-oriented approach included with the Moto X and sets prospective attendees up for a wild night, with a secondary event starting at 8PM EST and lasting until the wee morning hours. It looks like Google is gearing up for quite the kick off.
There's a host of entertainment involved, among them being DJ Kaskade, M4SONIC, Thank You X, Chef Marc Forgione, SOL REPUBLIC, and the comedy team JASH. Beyond that, the invite also gives us one other interesting piece of information, which you can spot for yourself up on the left corner: a shot of a white Moto X, which looks similar to the one Google's Eric Schmidt was seen using.
The flagship has been seen in a myriad of leaks, not the last of which were a ton of screenshots that surfaced yesterday showing some off its much-touted features. The device will be able to function based on certain situations, such as switching into hand set mode when the user is driving, and being silent at night when one is likely to be sleeping.
Beyond that, the smartphone will also allow for rather extensive customizations, including different colors and engraving, as well as rumors of wooden back panels and other materials. You can check out some of the latest news about the upcoming phone in the timeline below, and then head on over to our Moto X tag portal for more info.