Motorola is really, and suspiciously, stirring up some dust around its still current flagship, the Moto X. The company has now officially launched two new gimmicks for the smartphone, including the leaked 64 GB option as well as a chance to try out a Moto X with a deposit of only $0.01.
The "try then buy" promo was already revealed a few days ago, but now that option is officially available. The procedure is quite simple. Design a Moto X to your liking just you would any normal Moto Maker custom made version. Make a deposit of only a penny and wait for the device to arrive. Should you love it, you can opt to keep the Moto X and Motorola will charge you using the credit card you used for the deposit. If you hate it, just send back the package using the printable return label. No questions asked, no hidden charges. This offer is only available to no contract units.
And to go with that dry run offer, users will now have three storage options to choose from. As leaked about two weeks ago, Motorola has indeed been preparing a 64 GB configuration for Moto Maker. The leak was also spot on with the price tag of $449.99, just $50 more expensive than the 32 GB version.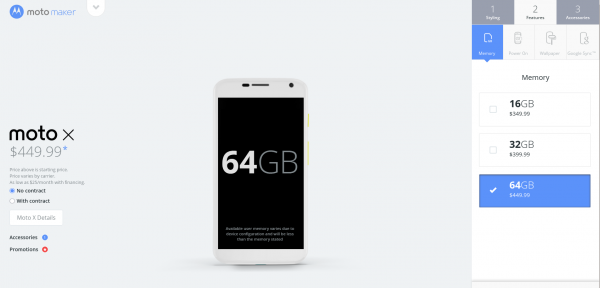 There might still be a few would be Moto X owners that have been holding out and the window of opportunity might be closing on them fast. Google's Texas factory, which is responsible for Moto Maker designed devices, will soon be shutting own and the fate of this customizable option remains uncertain.
Lenovo holds Motorola's reins now and all pointers so far indicate that the company won't be taking the same freedoms with the Moto X+1, This yet to be seen smartphone is believed to be a completely different beast from its predecessor, at least in terms of design and make. Inside, Motorola claims it is still committed to the same software decisions it made in the Moto X, though it remains to be seen if Lenovo will not leave its imprint there as well.
Update: The one penny try-to-buy has ended as the handset quota for the promo is sold out.