Moto X 64GB expected soon, carrier leak hints at delay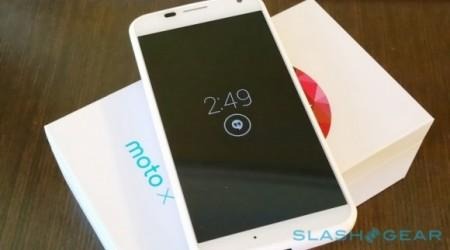 Though the device is seeing its share of one-day sales and diminished mind share, the Moto X still has a bit of life left. A great handset on launch, Motorola's current flagship is set for a subdued update that may give it one final push before we see the refreshed version. The news of a 64GB model may have also been confirmed by a carrier.
The "new" Moto X was supposed to simply offer up 64GB memory, with no other changes expected. The uptick has been rumored for some time, having been mentioned as a Developer option. Unlike the launch of the Moto X, which saw AT&T get the drop on MotoMaker, the 64GB option wasn't likely meant as a carrier exclusive.
A purported internal Sprint memo claims the device was to launch last Friday. The problem there, of course, is that it didn't. Not only did it not come to fruition (it's not available on the Sprint or Motorola websites), there doesn't seem to have been any changes to the leaked calendar image showing the release date.
Other evidence from Russia shows the 64GB option in MotoMaker, so we're inclined to believe the switch just hasn't been flipped yet. Motorola could have delayed the device to avoid the Memorial Day holiday weekend, or have a supply chain hiccup. Either way, we expect to see this one imminently, so if you're interested in a solid handset with a lot of memory, hang in there.
Source: MobilTelefon, Android Police
Via: PhoneDog