Moto G5 Plus VS OnePlus 3T: battle for the best budget phone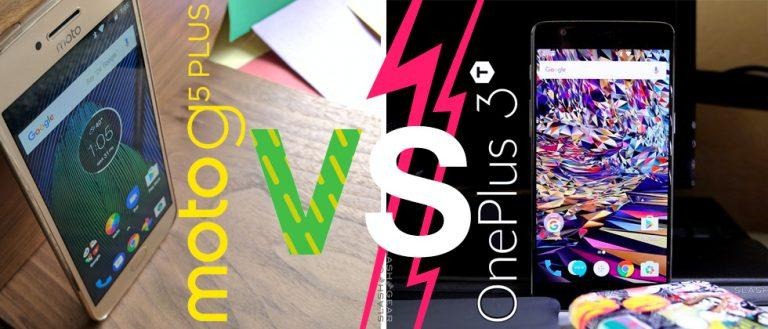 This week we're having a peek at two of the favorites in the field for budget leader: Lenovo's Motorola's Moto G5 Plus and the OnePlus 3T. Both devices are targeted at users who wish to make the most of their cash – and their prices are around the same range. Some points for features go to the OnePlus 3T, and others go to the Motorola Moto G5 Plus. Can you guess which wins which category?
Display Battle
The displays on these devices are quite different. The Moto has a 5.2-inch display with IPS LCD technology, while the OnePlus uses a 5.5-inch display with Optic AMOLED technology. They both have the same amount of colors (16M) in them, but the AMOLED display on the OnePlus gets quite a bit brighter than the Moto – making it just a bit more readable outdoors.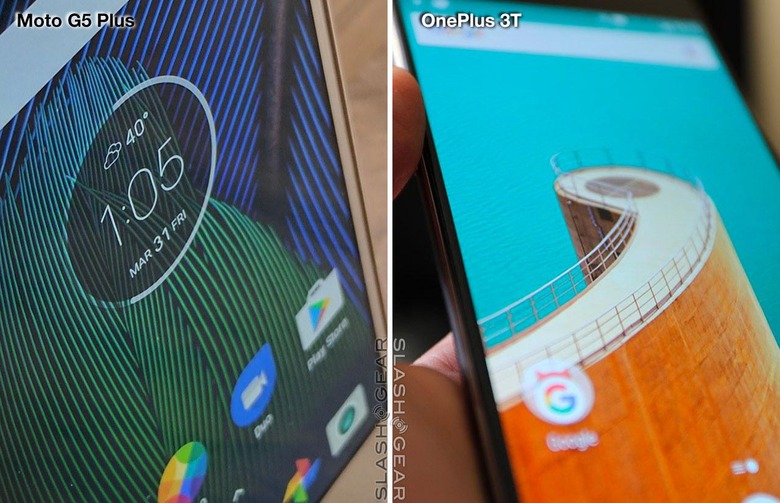 The Moto G5 Plus's display has 1080 x 1920 pixels across it – so does the display on the OnePlus. Because of this, and because the panel on the Moto is smaller, the Moto G5 Plus's display is sharper. Not incredibly noticeably sharper, but sharper nonetheless. The Moto has a Gorilla Glass 3 reinforced glass cover over its display panel, while the OnePlus 3T uses Gorilla Glass 4. To the lay person, this will make no difference – to the person scratching the glass with scratch-test metal tools, the OnePlus will fare just a tiny bit better.
Camera Battle
Shots we've taken thus far with the Moto G5 Plus tend to seem just a TINY bit cooler than the OnePlus 3T. The OnePlus 3T takes shots that feel just a TINY bit warmer than those of the Moto G5 Plus. For the lay person looking at photos taken by either device – it's difficult to tell the difference in the results. Results viewed on the displays of both smartphones make the OnePlus 3T photos look more vibrant – but this is mostly because of the more intense color of the OnePlus 3T's display.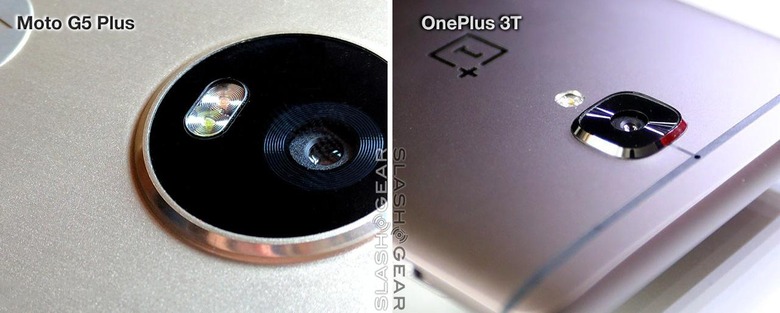 Focus is a bit easier to grab on the Moto G5 Plus because of its dual pixel autofocus feature. This comes with the Sony IMX362 Exmor RS Image Sensor present in the Moto G5 Plus – the same sensor as is present in the Samsung Galaxy S7 and Galaxy S7 Edge. The OnePlus 3T uses a Sony IMX298 Exmore RS Image Sensor which has Phase Detection Auto Focus (PDAF) – but not dual-pixel PDAF.
• ABOVE: Photos captured by the OnePlus 3T.• BELOW: Photos captured by the Moto G5 Plus.
Storage and Processor Battle
The Moto G5 Plus has either 32 or 64GB of internal storage paired with either 2 or 4GB of RAM – there's also a 32GB internal storage model with 3GB of RAM. If and when you go out and buy this device, make sure you're getting the combination of internal storage and RAM that you went out to buy. The Moto G5 Plus also has a microSD card slot that's able to carry up to 256GB more data.
SEE: Our OnePlus 3T Review
The OnePlus 3T unfortunately does not have any microSD card slot at all. It does, however, have either 64 or 128GB of internal storage and a cool 6GB of RAM. That'll allow it to power past the Moto G5 Plus easily – but will occasionally place it at a minor disadvantage for storage capacity.
Both devices use Qualcomm Snapdragon processors, and both are from the same generation – that's where the similarities end. SEE: Our Moto G5 Plus Review The Qualcomm Snapdragon 625 (MSM8953) Octa-core 2.0Ghz Cortex A-53 (with Adreno 506 GPU) is used in the Moto G5 Plus. In the OnePlus 3T you'll find the Qualcomm Snapdragon 821 (MSM8996) Quad-core (2x2.35Ghz Kryo + 2x1.6Ghz Kryo) (with Adreno 530 GPU).
Clock speed on Moto's Snapdragon is higher, as is the number of CPU threads that can be run at one time. However, the OnePlus' Snapdragon is able to support higher RAM speed which gives it a bit quicker system performance. The Snapdragon 821 also supports DirectX 11.1 and OpenCL 1.2 while both Snapdragons support OpenGL ES 3.1.
Other Bits Battle
Some features differ only slightly between the two of these devices. Some features are present on one, but not the other. For most people, these features are relatively unimportant. For other users – these features could make or break their decision to buy one device or the other.
Dimensions:• Moto 5G Plus: 150.2 x 74 x 7.7 mm (5.91 x 2.91 x 0.30 in)• OnePlus 3T : 152.7 x 74.7 x 7.4 mm (6.01 x 2.94 x 0.29 in)Weight:• Moto 5G Plus: 155 g (5.47 oz)• OnePlus 3T : 158 g (5.57 oz)Wi-fi:• Moto 5G Plus: Wi-Fi 802.11 a/b/g/n• OnePlus 3T : Wi-Fi 802.11 a/b/g/n/acFM Radio:• Moto 5G Plus: Yes• OnePlus 3T : NoFast Battery Charging:• Moto 5G Plus: Qualcomm QuickCharge• OnePlus 3T : OnePlus Dash ChargeInternal Battery:• Moto 5G Plus: Non-removable Li-Ion 3000 mAh• OnePlus 3T : Non-removable Li-Ion 3400 mAhPhysical Connection:• Moto 5G Plus: microUSB 2.0 and Headphone Jack• OnePlus 3T : microUSB 3.0 (USB-C) and Headphone JackPhone Colors:• Moto 5G Plus: Lunar Grey, Fine Gold• OnePlus 3T : Gunmetal, Soft Gold, Midnight Black
Pricing Battle
These devices are worth different amounts of cash to different sorts of people. What we're listing today is the prices you'll be able to find these devices at this week. The Moto G5 Plus is just launching this month, while the OnePlus 3T has been out since November of 2016. Both devices are available direct from their manufacturers – you'll have to check with your local mobile carrier if they'll be working with OnePlus or Motorola (Lenovo) to release the device(s) through their stores.
The OnePlus 3T with 64GB storage costs $439 USD from OnePlus, while the 128GB model will cost $479. The Moto G5 Plus with 32GB storage costs $230 direct through Motorola online, while the 64GB model will cost $300 USD. Amazon also has a couple of their own software versions of the Moto G5 Plus with reduced prices.