Moto G tip reveals specs that confirm our suspicions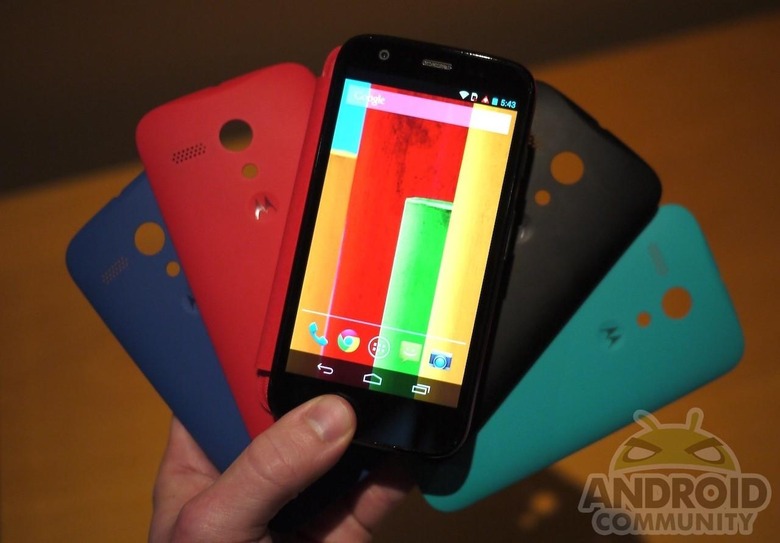 The start of the second half of the year also marks the start of the second phase of new smartphone lineups. Which means another round of rumors, leaks, and tips from anonymous sources. Depending on Motorola's mood, we might see yet another batch of its Moto family sometime between September and November. Curiously, it isn't the next Moto X that has been the subject of many sightings but its more affordable sibling, the Moto G. Our tipster, who of course remains anonymous, paints us an almost complete picture of this 3rd gen smartphone's innards, which, as expected, is a mixed bag.
Let's get down to the specs immediately. According to our source, the 2015 Moto G will retain the size and resolution of its predecessor, which is 5 inches and 1280x720 respectively. It is also confirmed that the processor is bumped up from a 32-bit Snapdragon 400 to a 64-bit Snapdragon 410. RAM is likely to remain at 1 GB given the processor. This upcoming smartphone also retains some features like dual SIM support and front-facing speakers.
Two things that have been considerably improved are storage and battery. Instead of 8 GB before, the Moto G is tipped to come in 16 and 32 GB options. The battery is now also much higher at 2,400 mAh versus the 2,070 mAh of last year. The front-facing camera is indeed a selfie-friendly 5 megaixels but the back camera isn't the 13 megapixel shooter we saw in a different leak but an 8 megapixel sensor from Sony with an f/2.2 lens.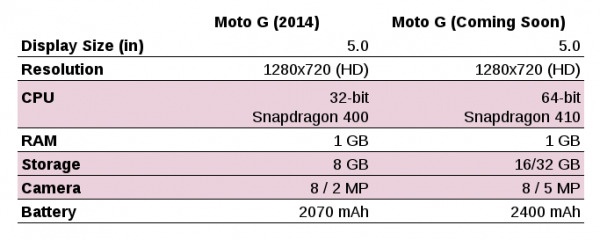 Seeing the two side by side, we notice that not much has substantially changed and the ones that did might not matter that much, depending on the buyer's use case, of course. True, the 3rd gen Moto G might be faster or can shoot selfies better, but those alone might not provide enough incentive to upgrade. On the flip side, for those who don't own a Moto G yet, we won't be able to recommend this enough. Presuming, of course, everything turns out as expected.