Moto G specifications and price aim for mid-tier dominance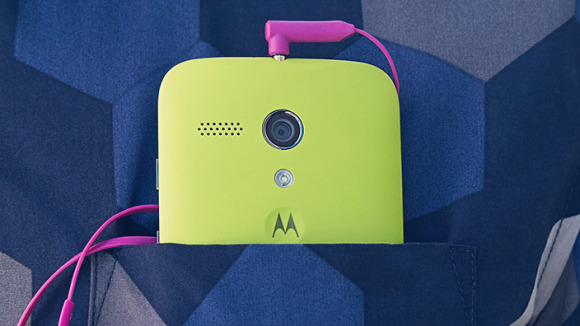 There's little argument over where Motorola is aiming with the Moto G. Having already made a mark in the United States with the Moto X in its customizable, hands-free mode-toting, multi-carrier subsidized form, this generation's hero phone for Motorola goes international with a taste the budget-friendly. This device works with a 4.5-inch LCD display at 1280 x 720 pixels (329PPI) up front with a 5-megapixel on its back, for starters.
Motorola revealed the Moto G to be working with a Qualcomm Snapdragon 400 quad-core processor clocked in at 1.2GHz with 1GB of RAM to roll. This device will be working with two iterations – there's an 8GB standard version and a 16GB version, both of these working with internal storage only (no microSD card slot).
All versions of the Moto G also include 50 GB of Google Drive cloud storage space for free for two years. This storage space, of course, requires the internet to function.
The back-facing 5-megapixel camera on the Moto G will work with 720p HD video at 30FPS. You'll also have a single LED flash and a variety of features: slow motion video, burst mode, auto HDR, panorama, and tap to focus. The front-facing camera comes in at 1.3-megapixels and is also capable of 720p HD video capture.
While the broader release of the Moto G will be working with a single SIM card slot, the India and Brazil versions of the Moto G will be dual-SIM capable. This device works with Wi-fi 802.11 b/g/n and comes in at least two network iterations: GSM and CDMA. The GSM version works with GSM / GPRS / EDGE / UMTS / HSPA+ up to 21 Mbps while the CDMA version will appear with CDMA / EVDO Rev A.
Moto G will be launched with Android 4.3 Jelly Bean and has a Motorola guarantee of an upgrade to Android 4.4 KitKat "at the beginning of 2014."
You'll have the Moto G itself in the box with a USB cable and a quick start guide – and that's it. Inside the Moto G is Bluetooth 4.0, GPS and GLONASS, and a built-in rechargeable lithium-ion battery rated for 24 hours of mixed-usage. This battery – again – is not removable and is 2070mAh in size.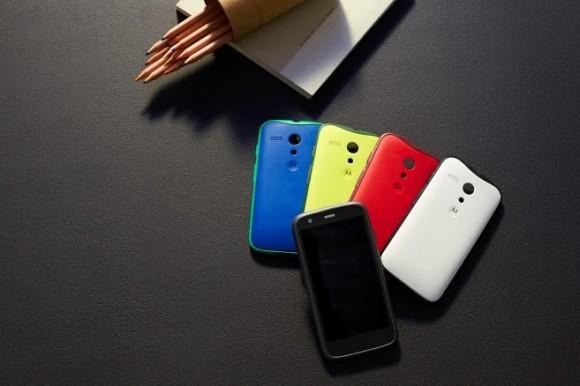 The back of the Moto G is, on the other hand, removable and replaceable. There are three different kinds of "Motorola Shells" to choose from: Color, Grip, and Flip. Each of 7 different colors of shell are available in the standard Color shell line, while select colors (from these) are available in Grip or Flip shells. That's white, black, red, yellow, turquoise, purple, and blue, per Motorola's simple naming scheme.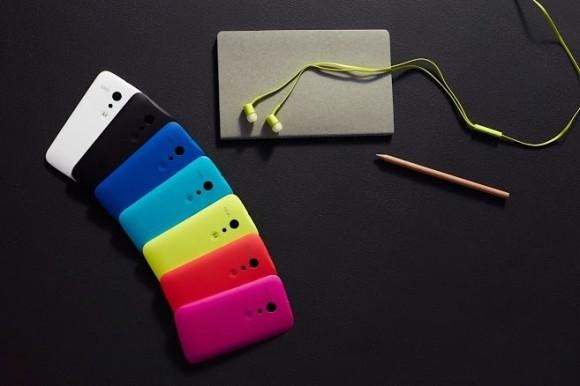 Total there are 19 different Motorola Shells to choose from. We'll also see pricing on these shells sooner than later, and we can certainly expect them to arrive at generally the same time as the Moto G itself to its respective markets.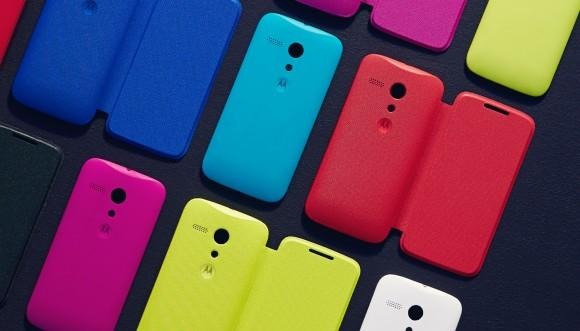 The Moto G will be available from Motorola direct in the USA and Brazil. Outside of the USA and Brazil, select partners will be distributing the device. One example – per Motorola's Guy Kawasaki – is "select Claro and Vivo stores" – we'll be sure to see a whole lot more quite soon. In Brazil and "parts of Europe", Moto G will be going on sale as early as this week.
You'll also see Moto G going on sale inside the next few weeks in parts of Asia, Canada, Latin America, and a larger cross-section of Europe. As for India, the Middle East, "more of Asia", and the USA – we'll see this device in early January. Motorola suggests that this device will be in over 30 countries and attached to 60 partners by the time 2014 begins.
Additional specific country release notes (adding as we go):
Yes: Belgium (in next four weeks), Indonesia
No: Serbia
Pricing on the Moto G inside of the United States starts at $179 USD – this is for the 8GB edition: off-contract, no SIM lock, with an unlockable bootloader. The same is true of the 16GB edition which will sell for $199 in the USA. While no retailers have stepped up inside the USA just yet, we're expecting subsidized pricing to be even lower attached to 2-year contracts.
Finally the size – the Moto G is actually quite similar in size to the Moto X – at least in how wide it is. The Moto G comes in at 129.9 mm high, 65.9 mm wide, and has a depth between 6 and 11.6mm from thinnest to widest with its back cover curve. Moto G weighs in at 143 grams – have a peek at our full Moto G vs Moto X comparison right this minute as well!