Moto E detailed vs Moto G in leaked image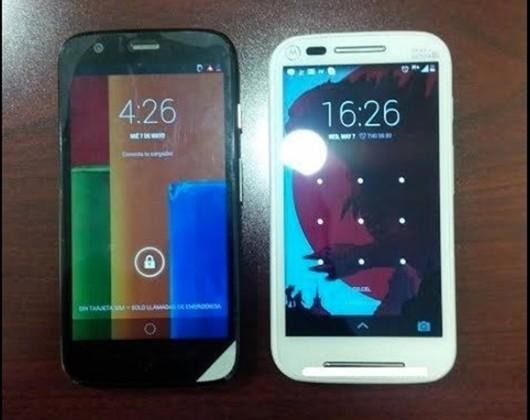 There's little different between the concept of the Motorola Moto G and the rumored Moto E – but looks can be deceiving. What we're having a peek at this week is a testing device much like we saw before the release of the Moto X. Sporting the new-age Motorola logo up front and to the left, and a testing symbol to the right, this Moto E is ready for low-end battle (with Godzilla as a wallpaper, no less).
The device you see before you sports the newest in new Android 4.4 KitKat software. From the single display shown today, the Moto E appears to be working with the newest in new Motorola-made UI as well, with quick-launch camera at its lock screen.
NOTE: The same arrow and camera icon can be found on the Android 4.4 KitKat build on the Verizon Moto X today, but the black bar is not replicated. This could be because the Godzilla wallpaper here is short – we're not sure.
This device has been tipped to sport a 4.3-inch display instead of the Moto G's 4.5-inch display – this image suggests similar. This image also seems to confirm the rumored 540 x 960 pixel display density of this smartphone.
Tap the thumbnail image above for a closer view.
Above and below the display are silver bars. These bars could just as easily be normal speaker and microphone ports disguised as something else as they could be forward-facing speakers.
There also appears to be a distinct lack of a forward-facing camera – but it could be hidden inside that single sensor space to the left of the ear-based speaker.
Have a peek at our Moto G vs Moto E article from last month and see how well it all matches up. We'll be expecting the Moto E to attack similar markets as the Moto G did with lower cost – we'll see this device, more than likely, on Motorola's May 13th event!
VIA: Android Police