Moto 360 Sport release dates shared with details on hardware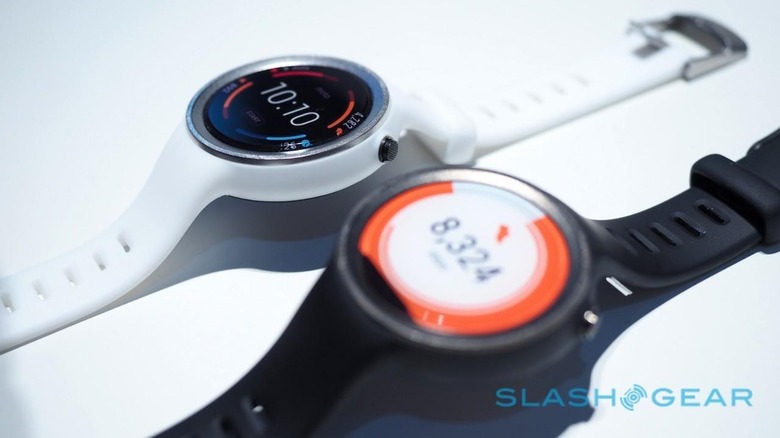 This morning Motorola revealed the Moto 360 Sport smartwatch in full – this after a brief introduction earlier this year with the standard Moto 360 (2015). This Android Wear device's release dates vary from country to country. If you're living in the UK or France, you'll see it popping up on December 18th. If you're inside the United States, you'll start to see this machine on the 7th of January, and in stores like Best Buy – and in the Motorola store in Chicago – on the 10th.
This device works with the same LCD display as the standard Moto 360, this time coming with a silicone band to resist fading and staining and sweat. This band has "side ventilation channels" as well – though you might just call them watchband rungs for the latch.
This device plays music on its own – you'll need some headphones to connect to the watch wirelessly, but you can store music locally, and use Google Play Music to play music from the cloud, as well.
This device runs Android Wear, therefor having access to apps for fitness aplenty. This means MapMyRun, Under Armour Record, Strava, the newly boosted Google Fit, and Fitbit.
Below you'll see full specifications for this device:
Operating system: Android Wear
Display: AnyLight Hybrid Display, Corning Gorilla Glass 3, 1.37" (35mm), 263ppi (360 X 325)
Watch case dimensions: 45mm diameter by 11.5mm high
Weight: 54g
Moto 360 Sport: a quick hands-on
Battery: 300mAh – Up to a full day of mixed use with Ambient on.5, Wireless charging with charging dock included
Processor: Qualcomm Snapdragon™ 400 with 1.2 GHz quad-core CPU (APQ 8026), Adreno 305 with 450MHz GPU
Memory: 4GB internal storage + 512MB RAM8
Connectivity: Bluetooth 4.0 Low Energy, Wi-Fi 802.11 b/g
Sensors: Barometric Altimeter, Accelerometer, Ambient Light Sensor, Gyroscope, Vibration/Haptics engine
Heart rate sensors: Optical heart rate monitor (PPG)
Water resistance: IP67 dust and water resistant6 – Not waterproof
Microphone: Dual digital mics
Bands: Silicone band in Black, White, Flame Orange
Stick around as we present our full review of the Moto 360 Sport soon. For now, check the Moto 360 portal and wait!