Motion F5 & C5 Tablet PCs get SSD, EV-DO and accessory updates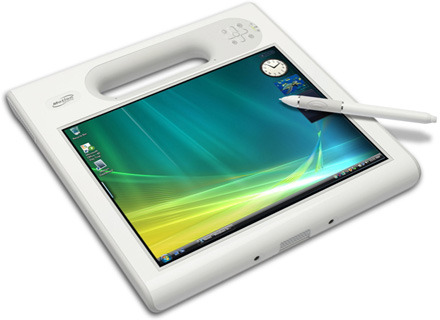 Tablet PC manufacturer Motion has updated its handle-blessed range of C5 and F5 slates with new storage options, accessories and mobile broadband.  The C5, which Motion describe as a Mobile Clinical Assistant (MCA) intended primarily for health workers, now has a choice of 80GB traditional hard-drive or a 32GB SSD, together with optional EV-DO.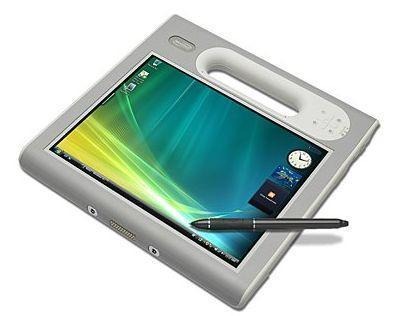 The F5 meanwhile, which is a semi-rugged slate, gets the same updates.  Both models share the new accessories, which include a Mobile Dock and Flex Carry case system.  The former is a multi-function wall, desk or vehicle dock with port replication charging, whereas the latter has an array of shoulder and hand straps for different ways to transport your tablet.
Motion are shipping the new versions of the slates now, the SSD & WWAN version of the F5 being $3,567 and the C5 $3,366.  The Flex Carry case is also on sale now, priced at $149, while the Mobile Dock is $249.99 with an AC adaptor or $324.99 with a vehicle adaptor but won't ship until August.
Press Release:
Motion's C5 MCA and F5 Semi-Rugged Tablet PC Enhance Mobile Workforce Productivity with Upgrades, New Peripherals

Mobile Broadband and Solid State Drive Options for the C5 Extend Usability to the Mobile Point of Care, and New Accessories Customized for the Design of the C5 and F5 Offer Convenient Usability Options

AUSTIN, Texas –(Business Wire)– Jul. 1, 2008 Motion Computing(R), a leader in mobile computing and wireless communications, today announced the C5 mobile clinical assistant (MCA) and F5 semi-rugged tablet PC feature upgrades and new custom peripherals created for the unique design of the devices. The C5 now features integrated mobile broadband and solid state drive (SSD) options to extend its usability to the point of care, regardless of patient location. Additionally, the C5 and F5 now feature improved capacity with standard 80 GB hard disk drives (HDD) at no additional cost.

"Motion understands mobile workforces and we are focused on improving productivity across a broad range of environments, from the patient bedside to the construction site," said Mike Stinson, VP of Marketing at Motion. "Customer feedback is a critical part of improving our tablet PCs, and based on recent input we're confident that these upgrades will enable our target customers to be more productive, no matter where work takes them."

With the C5's optional integrated mobile broadband, mobile clinicians can improve productivity by accessing important patient information, including digital images and patient history details. For many mobile point of care applications, such as those in home healthcare, ongoing connectivity will enable better collaboration with other treating clinicians and reduce travel time by allowing the immediate transfer of documentation after every patient visit, which can reduce processing delays and improve billing cycle times. Additionally, the optional SSD will help further protect the C5 from the occasional bumps and drops experienced by highly mobile professionals.

Motion(R) continually adds features and options that help organizations reduce the number of devices technicians carry, improve workflow, reduce data collection errors and ensure users can communicate with host systems and each other from the field. With a new standard 80 GB HDD in the Motion F5 semi-rugged tablet PC, mobile field forces in construction, government, field sales and service, and manufacturing are now able to store more images and other documentation, allowing them to complete tasks and solve customer issues when away from the office.

Motion also announced today new peripherals, custom-designed for the C5 and F5 that offer expanded options to more easily transport, charge and utilize the PCs while away from the office or standard docking stations.

– Motion Mobile Dock. The Motion Mobile Dock offers the convenience of docking the C5 or F5 in almost any location, such as a vehicle, wall or cabinet, and features full port replication and charging capabilities.

– Motion Flex Carry. An ergonomic solution that provides alternate methods for carrying and holding the devices throughout the workday, the Flex Carry includes shoulder and hand straps and easily fits into the standard docking station for uninterrupted workflows.

Motion tablet PCs now ship with Windows Vista(R) Business, which offers integrated features that improve the tablet computing experience. Benefits include improved handwriting recognition, enhanced searching capabilities, tablet input panel with auto-fill features for email addresses and URLs and pen clicks that enable users to quickly conduct an action with a simple pen gesture.

The Motion F5, C5 and Flex Carry are available now through Motion's network of resellers and distributors. The Mobile Dock is expected to ship August 1, 2008. Visit http://www.motioncomputing.com/buy/index.asp for more information.

About Motion Computing

Motion Computing is a mobile computing and wireless communications leader, combining world-class innovation and industry experience so professionals in vertical industries such as healthcare, field sales and service and government can use computing technology in new ways and places. The company's enhanced line of tablet PCs, mobile clinical assistants and accessories are designed to increase productivity for on-the-go users while providing portability, security, power and versatility. Motion combines those products with services and unique vertical market knowledge to deliver robust solutions – platforms, peripherals, services and wireless – customized for the needs of a particular industry. For more information, visit http://www.motioncomputing.com

Motion Computing and Motion are trademarks or registered trademarks of Motion Computing, Inc., in the United States and other countries. All other trademarks and copyrights are the property of their respective owners.