Mophie's new Powerstations embrace lower prices, USB-C, and wireless charging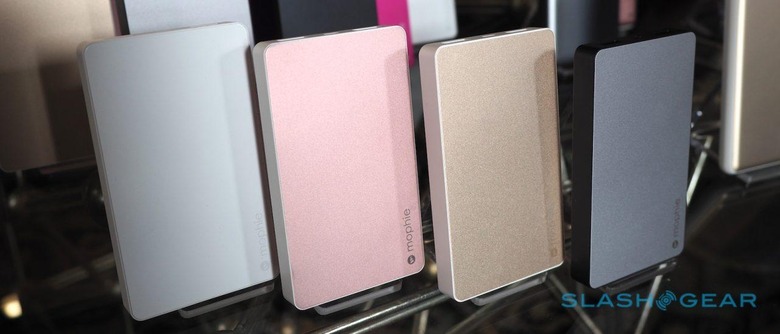 Mophie isn't quite ready to reveal its inevitable battery case for the iPhone 7 – like the rest of us, it's waiting for Apple's imminent reveal – but it does have a brand new line-up of universal Powerstation battery packs. In fact, there are now four product lines, spanning new, considerably lower price points from under $30, through to portable power with USB-C or wireless charging support.
Cheapest, and most accessible, is the 4th generation Mophie Powerstation. Previously, that kicked off at $59.95, but – courtesy of putting the company's industrial design teams directly in contact with the manufacturing specialists, and challenging them to come up with more cost-effective, straightforward production processes – you'll now be able to pick up a Powerstation Mini for just $29.95.
That gets you 3,000 mAh and a single USB output. If you want more, there's the 6,000 mAh Mophie Powerstation, for $49.95 with two USB ports, then the 10,000 mAh Powerstation XL at $69.95.
Finally, the Mophie Powerstation XXL gets you a full 20,000 mAh and three outputs, for $99.95. In the process it replaces – and seriously undercuts – the old Powerstation XL, which offered 12k mAh for $129.95.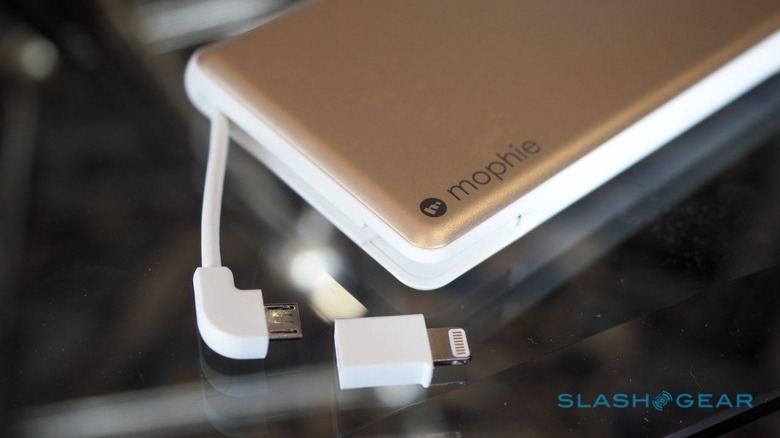 As for the Powerstation Plus, which includes a built-in charging cable, that has been redesigned too. With the first-generation model, you had to choose between microUSB or Lightning connectors; this new second-gen version has an interchangeable tip, converting microUSB to Lightning.
If you're not using the Lightning adapter, it magnetically stows in a small bay on the side of the battery pack. Mophie will offer three sizes of Powerstation Plus, kicking off with the 4,000 mAh mini at $59.95, then the regular Powerstation Plus with 6,000 mAh and adding a second USB charging output that can be used simultaneously (and which delivers 2.1A for use with tablets) for $79.95, and finally the Powerstation Plus XL, with 12,000 mAh for $99.95.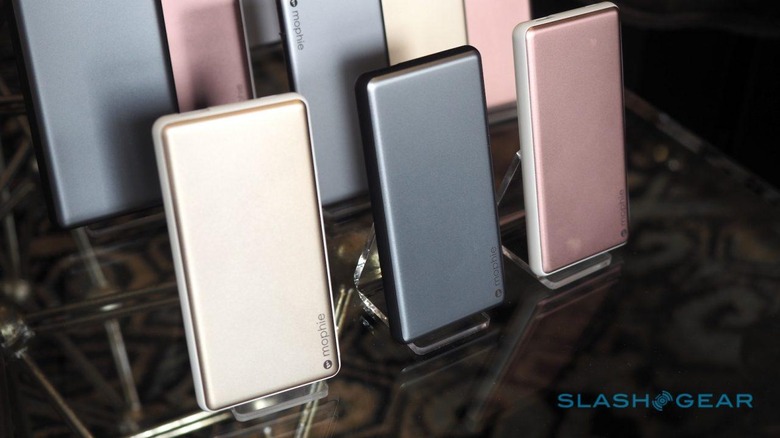 They're all slightly slimmer than they were before, and indeed the Powerstation Plus Mini has been designed so that it can be easily held behind your smartphone while it's charging, and not be unwieldy.
Together, the Powerstation and Powerstation Plus can probably satisfy the majority of current mobile users – particularly those who, the company says, emptied store shelves when Pokemon GO was at its battery-draining peak. However, early adopters are getting new options too.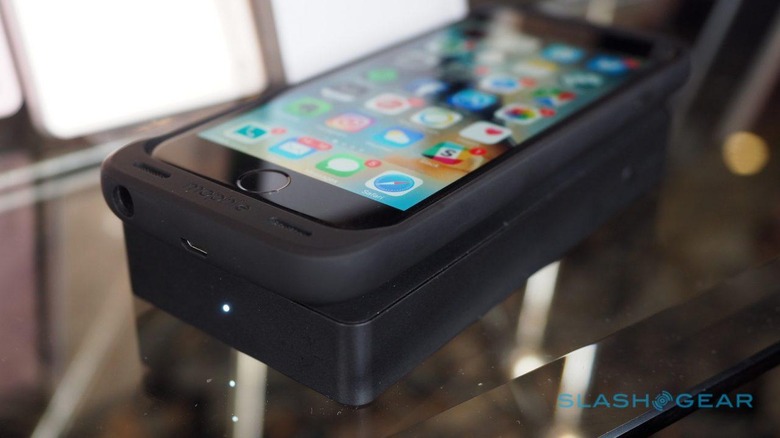 NOW READ: Mophie Charge Force Juice Pack Review
First is the $99.95 Charge Force Powerstation, a 10,000 mAh battery that, as well as a regular USB-A output, has a built-in Qi wireless charging pad.
It can output full power through both simultaneously, whether that's to a Samsung Galaxy Note 7 with native wireless charging support, or to an iPhone inside one of Mophie's recent Charge Force battery cases.
Like other Powerstations, it prioritizes the device plugged in for power: even if the Charge Force Powerstation is low, it'll pass through power to a phone either wired or wirelessly, filling that battery before it replenishes its own.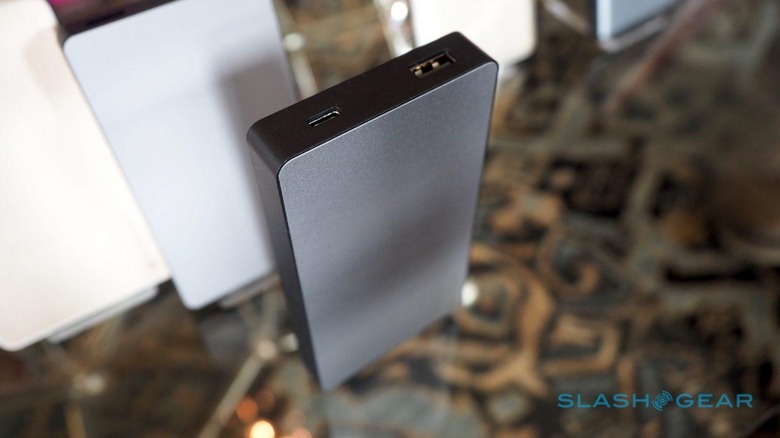 Finally, the $99.95 Powerstation USB Type-C switches out the USB-A port on the regular universal battery packs for a new USB-C connection, as used on the Nexus 6P, Galaxy Note 7, and several other new devices. Its 10,000 mAh battery can handle 15W high-output charging, too, and the same USB-C can both recharge the Powerstation and charge any attached device.
However, it's not designed to charge laptops like the Pixel C or MacBook, Mophie says.
All four new ranges are up for sale today.