Mopar made this retro drag monster from Dodge's Challenger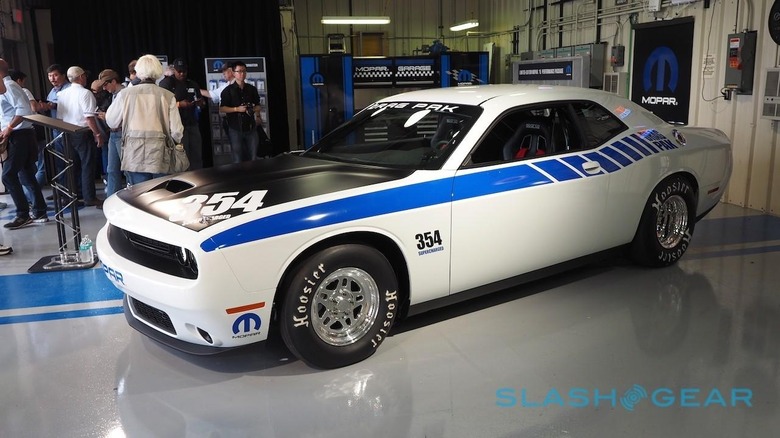 Dodge's Challenger is no stranger to performance, but Mopar is giving the coupe a distinctly retro drag-racer kick with the new Mopar Dodge Challenger Drag Pak. A factory-prepped race car for those with a taste for going very fast in a straight line, the Mopar Drak Pak will offer not only a naturally-aspirated engine option but – a first for Mopar – a supercharged model, both markedly different, though no less crazy, from Dodge's own Challenger SRT Hellcat with its 707 HP V8.
Mopar isn't talking final horsepower and torque numbers for the Drag Pak cars, though the assumption is that they'll be revealed when the duo make their Mopar Mile-High NHRA Nationals debut next month.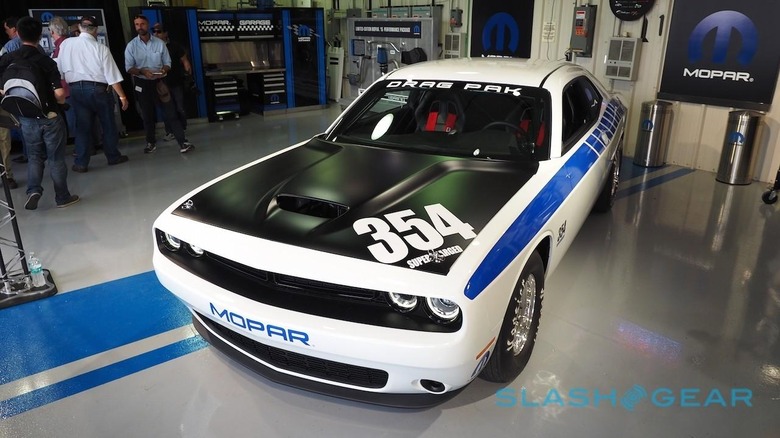 Even without those key figures, the specs make for some impressive reading. On the one hand, there's the 426 Naturally Aspirated model, with a Mopar aluminum block and pressed-in steel liners along with aluminum cylinder heads.
On the other, there's Mopar's first supercharged option, a 354 HEMI engine with cast-iron block, forged steel crankshaft, and Mopar-spec camshaft; if you're wondering, the 354 name is a reference to the first-generation HEMI engine, with its 354 cubic inch displacement.
Both versions get custom engine calibration, a race-prepped automatic transmission, and special graphics. On the 426 car, that means a horizontal black stripe along the side, and 426 HEMI badging, while the supercharged version gets a Mopar Blue stripe and "354 Supercharged" badges.
Lightweight 15-inch wheels may be relatively small by modern standards, but they're wrapped in chunky Hoosier drag radials. 28-inches by 4-inches on the front, and 30-inches by 9-inches on the rear.
Slotted front and rear brake rotors, with race-specific calipers and master cylinder, are also fitted. Front suspension is Mopar's own K-Member and suspension geometry, with double adjustable compression and rebound struts. On the back, there's four-link suspension with Panhard bar, Strange Engineering 4-inch solid axle, adjustable compression, and an anti-roll bar.
Mopar says the stronger rear axle mounting should allow for faster, harder launches.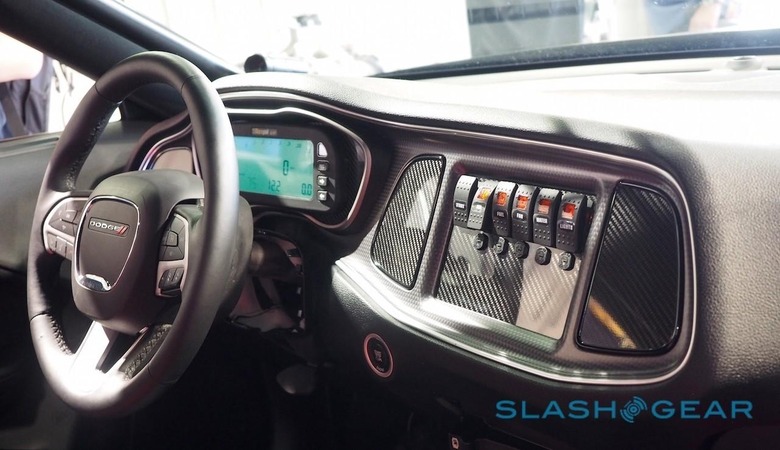 Inside, it's a spartan version of the regular Challenger's dashboard. Gone is the center touchscreen and even the vents, blanked out and replaced with a small spray of physical switches. Mopar gauges are included, too.
Racing seats, along with a safety net and five-point harness, keep the driver and passenger wrapped up tightly, and there's an NHRA-spec full roll cage. The shifter for the TH400 auto transmission with SFI case is similarly distinctive, a fist-filling ball with a huge side-grip.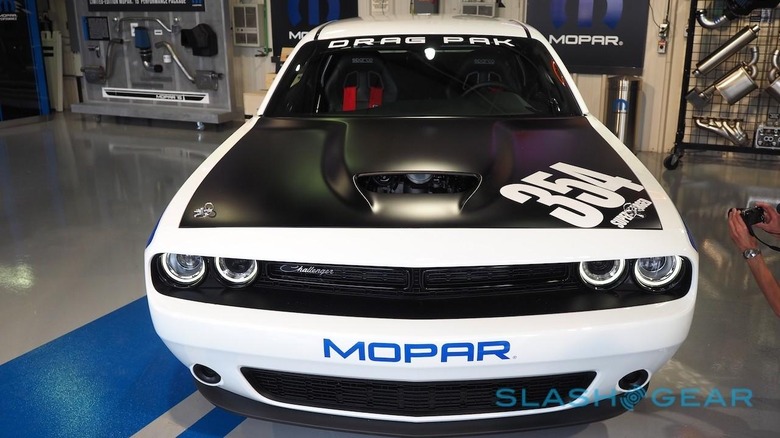 All in all, it's a modern-day drag star with a distinctly retro twist, though the price is anything but old-fashioned.
Mopar will be asking $99,426 for the 426 Dodge Challenger Drag Pak car, while the 354 supercharged version will be $109,354. Both will go up for order on July 23.