Monster Hunter: World brings the series back to consoles in January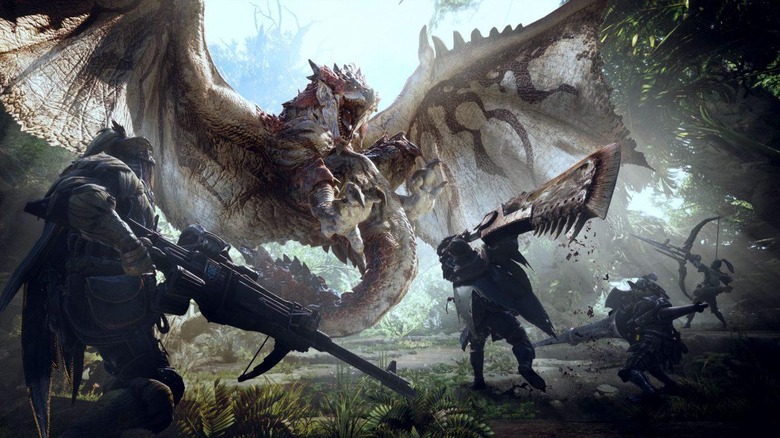 To say that Monster Hunter fans are excited for Monster Hunter: World is probably understating it a bit. This is the first mainline Monster Hunter game we've seen on consoles for quite some time, with the last being Monster Hunter 3 Ultimate on the Wii U back in 2012. Today we're finding out just when those excited fans will be able to play the game, and it's sooner than a lot of people probably think.
At the Tokyo Game Show today, Capcom announced a release date of January 26 for the Xbox One and PlayStation 4 versions of the game. Monster Hunter: World will also make its way to PC at some point afterward, but Capcom didn't share a release date for that platform today. Still, the fact that it's coming to PC at all will likely make a lot of gamers happy, as the only other Monster Hunter games to launch on PC were the series' MMO spin-offs.
In any case, Capcom also revealed the two limited edition releases Monster Hunter: World will be getting. First up is the digital deluxe edition, which will feature a Samurai skin set, three gestures, two sicker sets, and extra face paint and hair options for use in-game. If you're buying the game on PS4, you'll also get 14 PSN avatars as well. The digital deluxe edition will cost $69.99, so you won't be paying too much more for these bonuses.
There will also be a collector's edition release for Monster Hunter: World. This will give you all of the extra content from the digital deluxe edition, along with a 32-page hardcover art book, a monster statue, and a code for a digital copy of the Monster Hunter: World soundtrack. This, obviously, costs quite a bit more than the digital deluxe edition, clocking in at a hefty $149.99.
Finally, Capcom delivered a new trailer for Monster Hunter: World today. The three-minute trailer is suitably epic, with a sweeping score and a look at some of the towering monsters the game will pit you against. You can see that above, and be sure to head down to the comments section and let us know if you're looking forward to Monster Hunter: World.