Modbook Pro X recreates MacBook Pro Retina as uber-tablet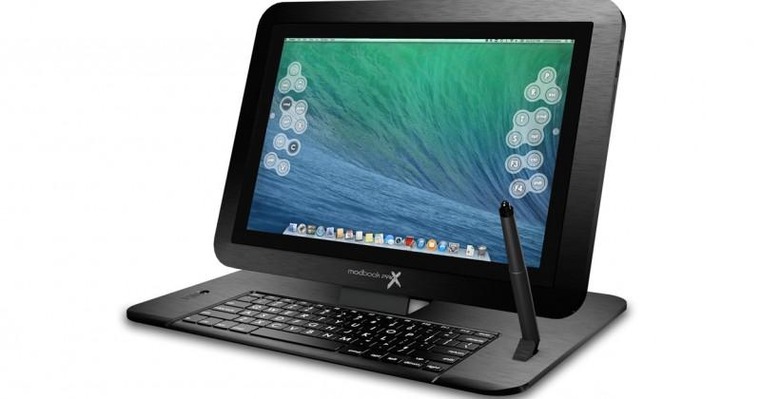 MacBook-to-tablet convertor Modbook is back with a new model, the Modbook Pro X, turning the latest MacBook Pro into a pen-enabled graphics powerhouse for designers and artists. Building on the 15.4-inch Pro which Apple updated yesterday, the new Modbook slate repositions the 2880 x 1800 Retina display into a new form-factor complete with shortcut keys on the back.
Modbook calls them Keybars, and they're used to trigger shortcuts and commands like "Save" and tab without having to put down the tablet. Press one, and a pop-up graphic appears on the Pro X's display, so you always know what you've tapped.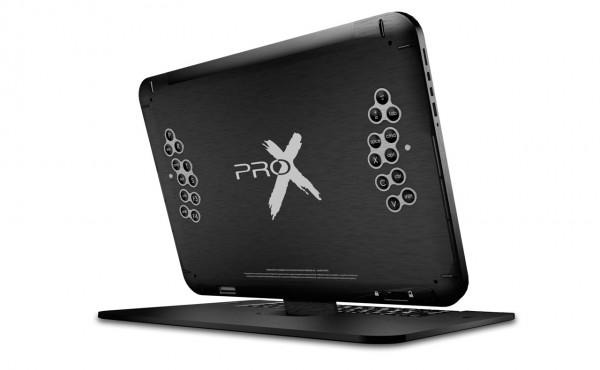 Meanwhile, another option is the keyboard stand, which acts as an easel for the tablet but throws in a full-sized, backlit keyboard. It also offers screen protection when they're both tucked into a sleeve. Angles from 30- to 90-degrees can be supported, and there's also integrated Bluetooth for hooking up to three external devices like mice or trackpads.
Inside the Modbook Pro X there's the heart of a latest-gen MacBook Pro. That means up to a 2.8GHz Core i7 quadcore processor, up to 32GB of memory, and up to 2TB of flash storage. Modbook also keeps the Iris Pro graphics, while NVIDIA's GeForce GT 750M with 2GB of its own memory will be an option.
Ports include HDMI, two Thunderbolt 2, an SDXC slot, and two USB 3.0 sockets – just as on the regular notebook – while inside there's Bluetooth and WiFi.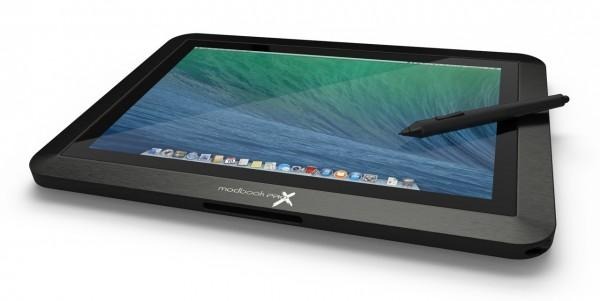 Unlike the donor Mac, however, Modbook's version adds a digital pen supporting up to 2,048 levels of pressure and tilt/rotate recognition. That works with Photoshop, Autodesk Sketchbook Pro, and various other art apps, since at its heart this is a regular OS X machine; it'll launch running Yosemite, and with a hardware warranty that covers both the core Mac and the changes Modbook makes.
As with previous Modbook tablets, however, all this won't come cheaply. Modbook is aiming to raise $150,000 on Kickstarter to fund the new model, but you'll have to pay at least $1,999 – and provide a donor MacBook Pro – to get the Pro X conversion. They're expected to be ready in early 2015; spend more, and you can have a complete system without having to provide the donor yourself, at what Modbook says will be an earlier date.
MORE Modbook