Mirasol Reborn: 5.1" Phone Display With Near Retina MacBook Resolution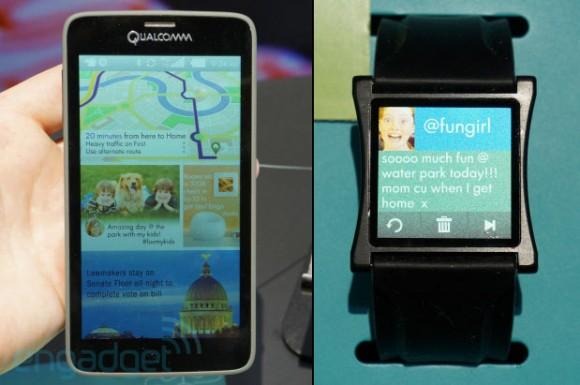 Qualcomm has unexpectedly revealed a new mirasol mobile display, a 5.1-inch panel running at a whopping 2,560 x 1,440 resolution. Last we heard of mirasol, Qualcomm was dousing production plans and focusing on licensing out the low-power technology instead, having seen production issues and the dominance of E Ink undermine its market. However, this new screen – with a crazy 577ppi pixel density – suggests Qualcomm's R&D on mirasol hasn't slowed.
The panel, spotted by Engadget at display-centric expo SID 2013, was being demonstrated as part of a generic smartphone mockup, though Qualcomm was keen to point out that it was not in any sense a final product. In fact, the new screen itself is still a few more years out altogether, with the mirasol team working on the technology.
First impressions even at this early stage seem to suggest that the user-experience of mirasol is little changed, despite the step up in resolution. The reflective display technology – which uses ambient light to make the screen brighter – gives graphics "a silvery tint" Engadget reports, while colors are more muted than on LCD or OLED.
However, it's the resolution and power consumption that are particularly special. Qualcomm says the new screen consumes 6x less electricity than a comparative LCD or OLED panel, which means longer runtimes off smaller batteries, and overall thinner and lighter phones.
mirasol has been a work-in-progress for Qualcomm for some years. Built upon the same theory that makes a butterfly's wings iridescent, the technology uses pixels made up of what are effectively tiny mirrors, selectively reflecting light back out of the display according to the primary colors. Unlike LCD screens, which require active backlighting, or OLED, the pixels of which produce their own light, mirasol has no backlighting at all, and is in fact clearer and brighter the more light lands on it. Qualcomm has also produced versions with front illumination, for use in low-light situations.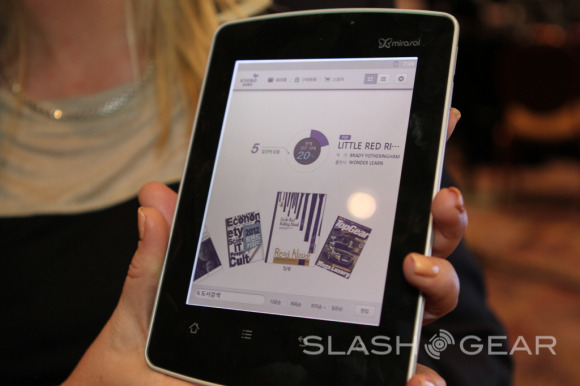 That makes it ideal for ereaders and low-power phones and tablets, but Qualcomm has struggled to make an impact on those markets. A small number of ereaders have launched with the color e-paper display, but the big sellers in the segment have stuck with monochrome displays from industry heavyweight E Ink. Meanwhile, delays in creating panels capable of showing smooth video playback, and a perception issue caused by the muted colors, has also held back the technology.
It's mirasol's production hiccups that have proved most disastrous, however, and are what triggered a rethink by Qualcomm last year. Then, CEO Paul Jacobs said the company was "now focusing on licensing our next-generation mirasol display technology and will directly commercialize only certain mirasol products."
The fruits of the company's research include this 5.1-inch screen, along with a 1.5-inch panel which Qualcomm was showing built into a smartwatch concept. The latter may be closer to launch than its bigger sibling; Qualcomm said that it is expected to show up in commercial devices "soon" from third-parties.