Voice, data, and a battery backup for those times when ice storms take out your landline: that's the promise Novatel Wireless' MiFi Home is making, also known as the Verizon 4G LTE Broadband Router with Voice. Unwieldy name but the hardware does a fair amount: like a traditional MiFi it'll share a mobile data connection, but plug a regular wired phone in and you can also make voice calls as if it were a landline, too.
Novatel Wireless had been muttering about a combination device that would help cut the telco cord for some time, as it hunted for the "next big thing" after mobile hotspots became ubiquitous. The MiFi Home is the answer, a surprisingly well thought out device with two landline ports, three ethernet ports, and support for up to ten WiFi clients at any one time.
There's also an integrated battery – in this case 2,150 mAh for power outages – and a 1.54-inch OLED display which shows LTE network status, the number of connected clients, and battery status. It'll also give you a count of how much data you're using.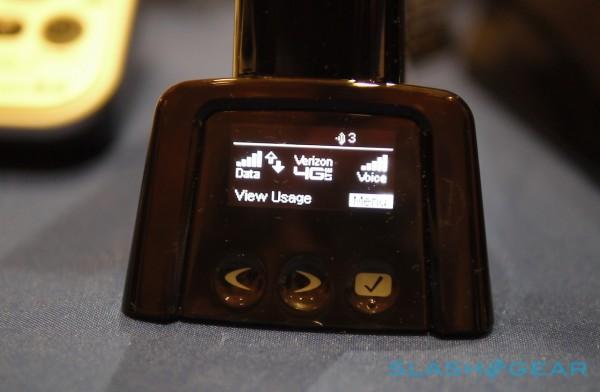 If we were going to be picky, we'd have liked to have seen a DECT radio in there too: having two RJ11 phone ports is useful, but we'd prefer to have the flexibility to put a second handset elsewhere in the home or office. The fact that it's limited to WiFi a/b/g/n, rather than 802.11ac, is another annoyance, though that's probably only going to be an issue for people swapping files between devices, since LTE isn't going to stress out even 802.11n connections.
The biggest stumbling block, though, is the pricing. Verizon is offering the router for $30 with a new agreement (or $199.99 with a month-to-month plan), but the cheapest monthly plan is $40. That may net you unlimited talktime and unlimited text messages, but only offers a paltry 500MB of data: something you could crunch through in very short order if you watch a few YouTube videos. Verizon offers up to 6GB plans, but then you're looking at $80 a month, and even that is borderline unacceptable if you're relying on the MiFi Home home.
It's a shame, since the MiFi Home idea itself is a solid one. Paired with a true-unlimited plan and it might've been the best thing for the cord cutter.