MiFi Tower Smart Home Hub Due Q3 From "Tier 1" Operator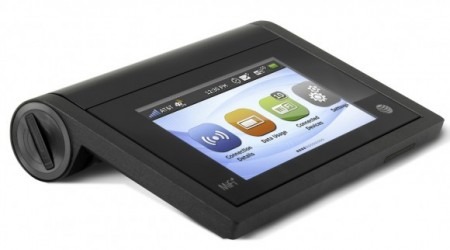 MiFi creator Novatel Wireless is developing a new home hub, dubbed the "MiFi Tower", not only cutting the cord on traditional voice and data, but integrating smart home functionality as well. The LTE device, already in testing and outlined during the company's recent financial results call, is billed as "MiFi Powered" and blurring the distinction "between fixed line and cellular infrastructure" with home connectivity, digital phone service, and internet access all wrapped up in a portable device that, one day, could enable total migration of voice and data services to IP-based equivalents.
According to Peter Leparulo, Novatel Wireless' chairman and CEO, the MiFi Tower has been in development for around twelve months, and the company plans to launch it before the end of September 2013 with a "tier 1" partner.
Previous models, such as the AT&T MiFi Liberate, have effectively straddled the mobility and semi-fixed installation roles, but according to Leparulo the MiFi Tower will take that functionality even further. The new hotspot will seamlessly merge fixed line and cellular connectivity in a way that will be apparently invisible to the end-user, with provision for both 4G data and whatever fixed infrastructure is on offer.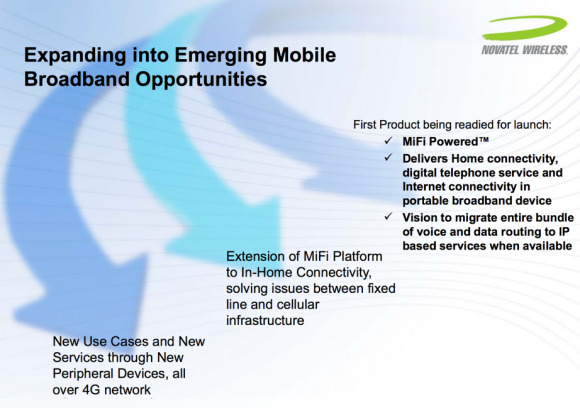 However, Novatel Wireless sees the MiFi Tower as evolving from a pure voice and data hub to the center of a smart home installation, not to mention helping operators transition users away from traditional analog voice services to VoIP alternatives.
"We believe that there is a Trojan horse element that we developed into this," Leparulo told investors during a post-results conference call transcribed by Seeking Alpha, "making it extensible into different types of home automation and again all build around sort of core MiFi technology which is able to abstract the connectivity for different devices and different local environments to different areas and levels of local connectivity and control routing of that data and voice in one device."
Although Leparulo didn't detail the exact hardware of the MiFi Tower, there are some obvious possibilities, such as routing regular phones over cellular or VoIP bridges rather than through twisted-pair analog voice lines. We've already seen routers that offer 3G/4G backup to a fixed broadband connection – providing a safety net of connectivity should your cable or DSL go down – but Novatel Wireless looks to be pushing that even further, by treating fixed and cellular as effectively equal.
Meanwhile, there's portability too, though whether that would include battery power – as per the existing MiFi range – or require an AC connection remains to be seen.
As for the smart home functionality, we've seen attempts at that from operators before, in the shape of AT&T's Digital Life, while Verizon has been running trials of its Home Monitoring and Control equivalent since 2011. More recently, though, third-party products such as Revolv, aiming to act as a hub for relatively low-cost home automation kit like Sonos, Philips hue, and others, have emerged.
Novatel Wireless is yet to confirm which partner plans to launch the MiFi Tower, but AT&T, Verizon, Dish, and others are all viable options.