Microsoft's Windows 10 music app seems to channel Spotify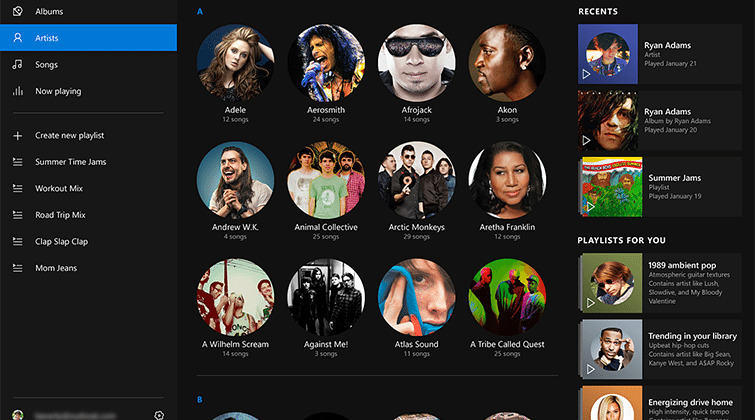 As the final release of Windows 10 continues to draw nearer, we continue to get little sneak peeks at what Microsoft's newest operating system has in store for us. Recent leaked builds have shown us the new Edge browser and the latest versions of the Mail and Calendar apps. We know that Microsoft is finally killing off the Media Center legacy software, and that the first users to install Windows 10 will be treated to gratis copies of Candy Crush Saga. The latest image is of the OS's new music app, featuring a layout very reminiscent of Spotify.
The new screenshot comes from one of Microsoft's Xbox Support pages. This might be because the Windows 10 music app is actually a re-tooling of the old Xbox app for Windows, which was how Microsoft used to brand its music and video services until earlier this year.
This also looks fairly different from the music app that exists on the current preview builds of Windows 10, featuring a start black theme instead of the white that is used now. The new app also lists previously played tracks on the right side of the window, with a new menu on the left that slides out with the click of an icon. The music playback controls are still on the lower-right, however.
With all the images we've seen of the Windows 10 interface and its apps, it seems like black and white themes will be prominent. And while this new music app may have only had some layout and color changes, it definitely has a smoother, more modern look than the previous version. If this is any indication of what we'll get a whole with Windows 10, it may turn out to be a fairly attractive piece of software.
VIA The Verge
SOURCE Xbox Support