Microsoft's new tablet casts ominous shadow over Surface Pro 4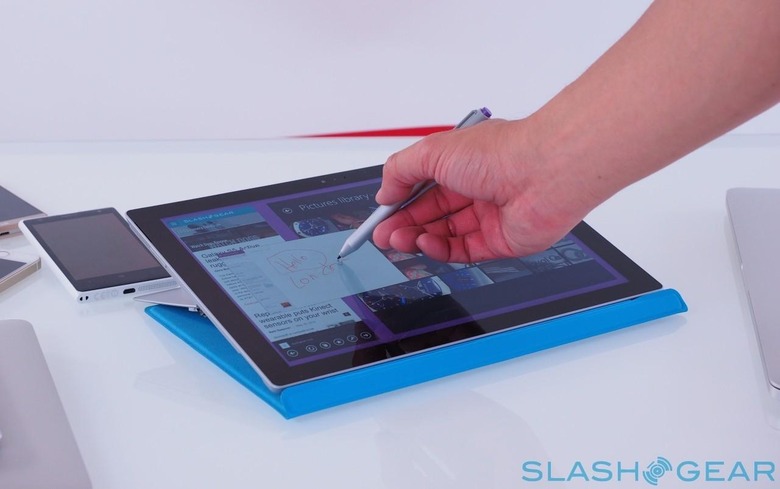 Microsoft has quietly slipped a new Surface Pro 3 configuration into its line-up, amid speculation that the Surface Pro 4 will never see the light of day. While you might expect the new model to lower the cost-of-entry to the Windows tablet with its detachable keyboard and pen input, in fact it slots neatly into the midst of the existing range, with a Core i7 processor like the flagship Surface Pro 3 versions, but with a compromise on storage.
$1,299 gets you a Core i7 processor, 8 GB of memory, and 128 GB of solid-state storage. That puts it at the same price as the existing Core i5 model, which also has 8 GB of memory but double the storage, while undercutting the $1,549, Core i7 Surface Pro 3 with 8GB of memory and 256 GB of storage.
Microsoft's thinking on the discrete range expansion isn't known, though there are a few possibilities. Perhaps the most likely is that potential customers blanched at the $1,549 price of a Core i7 model, and were willing to compromise on capacity just as long as they still got the fastest processor Microsoft offered.
However, other theories suggest Microsoft could be updating the processor to something newer from Intel's range, giving the Surface Pro 3 a mid-life-cycle refresh of sorts.
That idea, put forward by long-time Windows watcher Paul Thurrott, also ties into concerns that the Surface Pro range as a whole may be facing an uncertain future. Comments last week by Satya Nadella, Microsoft's chief executive, that "tough choices" must be made if the company is to continue on an even keel have thrown projects like Surface, Lumia, and more into doubt.
Combined with the fact that Thurrott's traditionally-vocal rumor pipeline has been conspicuously quiet about the Surface Pro 4 project, and it's perhaps no surprise that there are some who don't believe the new tablet will ever see the light of day.
Of course, it may well not be entirely bad news. Given the sales of the Surface Pro 3, which have eclipsed both generations of its predecessors, Microsoft might be taking a more cautious approach.
Upgrading the hardware inside, while keeping the exterior the same, has worked for Apple and the MacBook Pro and MacBook Air for several iterations, and there's arguably no good reason for Microsoft to completely revamp the tablet if a good proportion of the package is still working fine.
In fact the biggest issues are around the processor, and Intel has a fix for that in the pipeline. Skylake, its sixth-gen Core CPU series, is due later in 2015, promising more power but reduced energy consumption.
VIA Paul Thurrott
SOURCE Microsoft