Microsoft's Ballmer Boasts 500,000 Windows 8 Downloads Last Night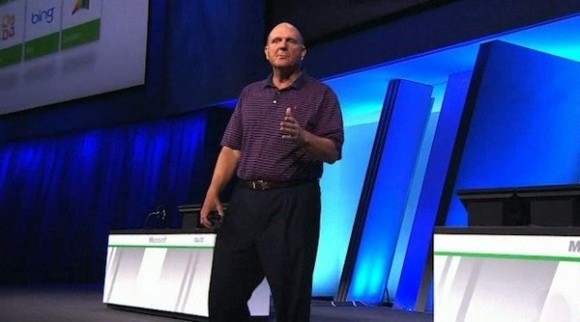 During Microsoft's Build developer conference, CEO Steve Ballmer made a surprise appearance to talk about the future of Microsoft, Windows 8, and cloud computing. He also touted that the Windows 8 preview, which was made available last night, has already seen 500,000 downloads within the last 12 hours.
Ballmer notes that they still have a long way to go with Windows 8, but that much of the core operating system is already in place. Much of the work remaining involves incorporating other services with Windows 8 and to ensure compatibility with ARM-based systems. However, he emphasizes that "It's not going to be Intel or ARM. It's going to be Intel and ARM."
And with all the new opportunities to develop other types of devices and cloud services, Ballmer says that their approach is to remain focused on Windows, but "broadly re-imagining Windows." Other major topics he hit on included being able to incorporate Windows Phone, Windows Live, and other cloud services such as Bing and Office 365.
He also encouraged developers to support Windows despite the other tablet and smartphone operating systems available, insisting that there is no other platform in the world that will ship 350 million units this year. This seems to hint at rumored support for Windows Phone apps in the Windows 8 platform.
The company demoed Windows 8 during yesterday's keynote and gave away a Samsung Windows 8 tablet to each of the 5,000 attendees. Make sure to check out our hands-on with the tablet.
[via AllThingsD]