Microsoft Zune HD Shows Marketplace Apps at Best Buy Demo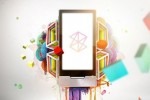 Did you happen to make it into a select few Best Buy stores over the weekend? If so, did you get a chance to stare at/touch/play with a Zune HD? We certainly hope so. But! If you didn't get that great of an opportunity, then it looks like a video might just have to cut it for now. And why is this video so amazing, other than giving you another look at the sexy piece of gadgetry? It shows off the Marketplace on the device, and then right there, smack-dab in the middle: Apps.
We've got job postings, and developers of competitive products saying they're being enticed with money to come on over to Microsoft's team, and finally XNA creators meant for the Zune that combine to tell us (and everyone else, we imagine) that Microsoft pans on being in the applications development bandwagon, and not simply for their Windows Mobile products. So, with help from third-party developers, it's pretty safe to assume that Microsoft is setting up the new Zune HD as a legitimate iPod Touch competitor, and for most, the applications that Microsoft plans to have on that said device will really decide that impending war.
As for the video, we only get a sneak-peak. The store's demo unit had its on board WiFi turned off, so we aren't lucky enough to see any of the juicy details beyond that little App title, like if there's any titles complete, or if anything even lies beyond that portal. Will there be any applications at launch? And if there are, will they be worth paying any attention to? Does Microsoft have something up its sleeve, ready to demolish all expectations when September 15th comes along? Or will the Zune HD just be another PMP released onto the market, caught up in the shadow of the technological marvel known as the iPod Touch? Check out the video and see for yourself, and start assuming ladies and gents.
Here's the link to the Qik video: http://qik.com/video/2631739
[via Electronista]