Microsoft Zune 2 and Flash-based Zune break cover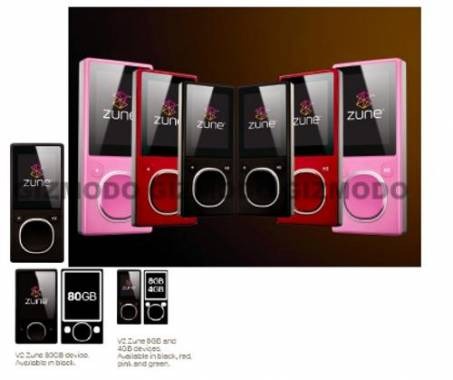 Here's something you're unlikely to see at IFA 2007 – the first photos of Microsoft's next-gen PMP models, the Zune 2 and Zune Flash.  The former is indicated as having an 80GB hard-drive (a leap from the original Zune's 30GB) while the latter – the first PMP from Microsoft to use solid-state memory – is shown in 4GB and 8GB flavours.
Gizmodo are leaning toward thinking that the broad controller might just be touch-sensitive as well as being a real button, but beyond these images – which are supposedly from marketing materials, and independently confirmed by a second source - there's very little new information. 
Microsoft have previously stated their intent to release the replacement for the original Zune – which received reasonable reviews but failed to make a serious impact in terms of sales – around the holiday season, with extra features around video and podcasting support as well as advances in the WiFi (which proved to be unpleasantly crippled in a hat-doff to the music industry).
[via Gizmodo]