Microsoft Xbox 360 Slim Shown Off Next to Current Xbox 360

Chalk this one up to a rumor, real quick. While we've seen what the Valhalla redesign is going to look like on the inside, but up until about now there's been nothing about what the physical aesthetics would look like. Now, we realize that the images herein don't go far into fixing that, but you can clearly see that whatever this person is holding, it does look like a smaller Xbox 360. And, sadly enough, it could be something as simple as this that breaks the cover on this long-rumored piece of gadgetry.
The Dutch site Gamekings.tv got the leak dropped in their digital inbox, and it looks like they're taking the leak as the real deal. While we can't verify it at the moment, and we know that people would definitely go to any length to get their pictures on the Internet, but if it's true, we have to admit: it looks nice. From what we can tell, the deign of the Xbox 360 is staying true, but it's just getting a lot . . . Smaller.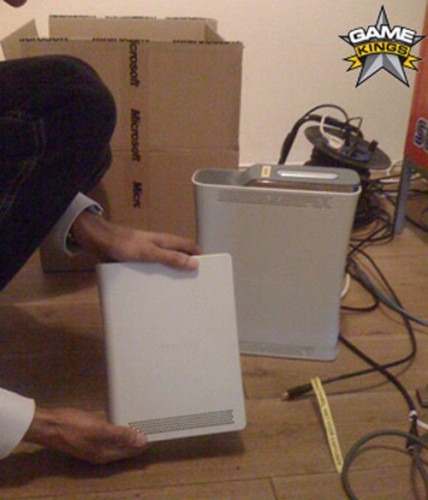 As we said, this one's a rumor right now, and we don't imagine that Microsoft would come out and say otherwise any time soon. Unless, of course, they're telling us it doesn't exist. With Project Natal ready to hit shelves this holiday season, would you be more willing to buy the motion-based gaming platform if it was bundled with a new, slimmer Xbox 360 console? Or, are you not in the market for another console?
[via MaxConsole]