Microsoft Xbox 360 Valhalla Redesign Pictured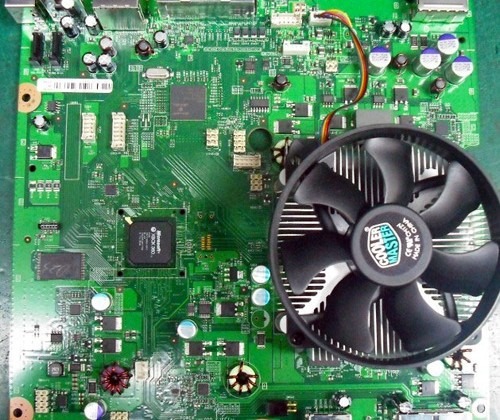 The rumors about Microsoft updating their video game console, the Xbox 360, have been floating about for a little over a year now, and many people out there think that it's about time the console of today be replaced with something of tomorrow. The Redmond-based company has said in the past, though, that with the upcoming Project Natal, there isn't any reason for them to replace the console. That's not stopping the rumors, though.
The Valhalla redesign is one of those rumors that won't go away, and it doesn't help when an image like this surfaces. So, what is Valhalla? It's a new design that allows for the GPU and CPU to be on one chip, and therefore take less power and energy to cool and function. It will also reduce the cost of manufacturing, along with make the box a lot quieter while it's running. The image is from China, where apparently the mainboard is being tested.
But, that's not all. The rumor goes that this isn't just a redesign of the motherboard. And the story isn't about the combination of the GPU and CPU, either. The Valhalla redesign is apparently prompting Microsoft to redesign the console itself. From what we can tell, this means that the Xbox 360 might be getting . . . Slimmer. Similar to the PlayStation 3, perhaps. That means buying a new Xbox 360, if it comes down to it. And while revamping the console in time with releasing Project Natal makes sense to some, we can only hope that Microsoft does a pretty nice bundle, if that is indeed the case. Anyone going to start saving up?
[via Kotaku]