Microsoft: Xbox 360 sales growth blasts PS3/Wii out of the water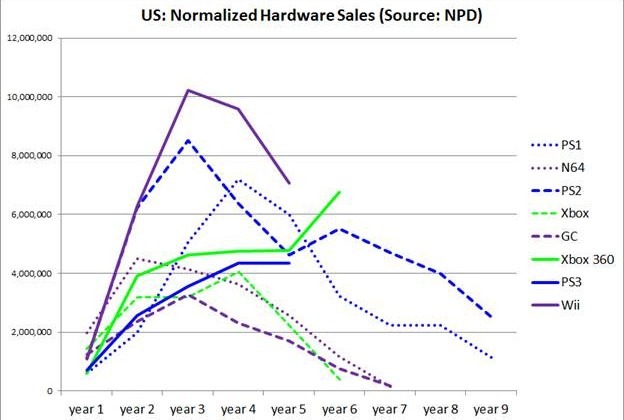 Nintendo may be headed into E3 week looking forward to previewing its next-gen console, and Sony may be hoping nobody asks embarrassing questions about hacking, but Microsoft is getting things started early with the claim that it has revolutionized the "long tail" of how long consoles typically keep their shelf freshness. In a period where PS3 sales are slowing, Microsoft claims the Xbox 360 has seen a 29-percent year-on-year increase in sales.
In fact, Microsoft has apparently sold 55m Xbox 360 consoles in 38 countries, and sales continue to rise. Growth is triple what Sony is seeing for the PS3, and there are now close to 35m active Xbox LIVE members worldwide who spend on average almost 60hrs a month on there. That works out to 2.1bn "entertainment hours" each month.
Microsoft's graph, above, certainly shows the 360 to be the odd console out, and while that's probably no great issue to Nintendo, with a new model on the way, we can imagine Sony is having some sleepless nights. Still, everything could change at E3 depending on what the three companies take to the stage and announce – Microsoft is expected to talk about the new Xbox LIVE Diamond TV service – so join SlashGear next week when we head to LA and get our game on.