Microsoft Word tops the iOS app store charts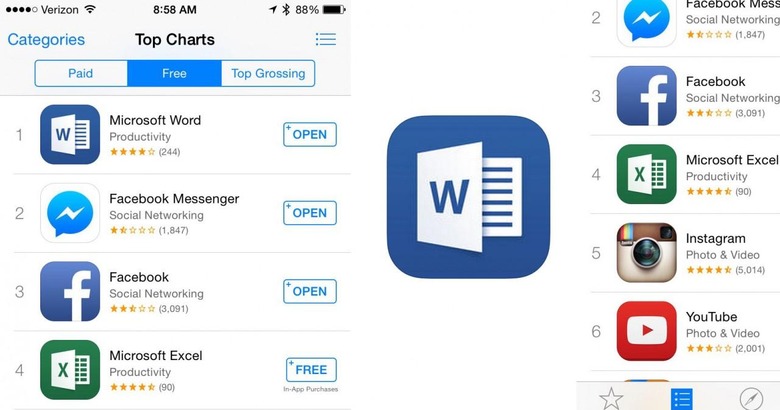 Not 24 hours after Microsoft announced they'd be switching from a paid model to a free model of business for their Word app on iOS, the app has become the topmost Free app on the market. Imagine that! Ahead of Facebook, ahead of Facebook Messenger, and well ahead of Google Docs – which currently sits at the 93 spot. Word is currently beating out Instagram and YouTube downloads as well. Office 365 no longer needs a subscription to work, while Microsoft's battle aims to trounce its Google and Apple software competitors.
If you'll head back to our first look at Office for iPhone you'll see how impressive this first version looks. Very similar to the iPad version, you'll need iOS 7.0 or later – otherwise you're golden.
Meanwhile on Android, Office is nowhere near the top spot for Free apps. Facebook Messenger tops the charts, followed by Facebook, Pandora, and Instagram. Of course Microsoft Office Mobile isn't as enticing as a "brand new first time ever release and free Microsoft Office for iPhone."
Head in to grab Office for iPhone right this minute and let us know how it goes for you. Are you planning on sticking with Office through the future – do you use it on your PC and plan on sticking with it no matter the competition?
Or are you a Google Docs or Apple Pages sort of person?