Microsoft teases new Lumia phone coming November 11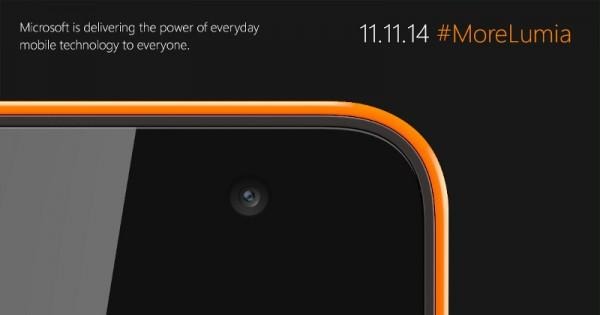 Apparently it hasn't taken long for Microsoft to fully lay claim to its shiny new non-Nokia Microsoft-only Lumia name. After a brief sighting of a Microsoft smartphone at TENAA earlier this week, Microsoft is officially teasing the public and its fans with what would be the first Microsoft Lumia smartphone in history. With nothing but a cropped section of what seems to be the same leaked device, Microsoft is saying that it has #MoreLumia in store for everyone. But you'll have to wait for November 11 to find out what.
Microsoft officially shed off the "Nokia" part of the Lumia brand about two weeks ago, ending any and all questions about how the company wants to proceed with regards to brand recognition of the smartphone line that it had purchased from the ex-giant Nokia. Although it didn't explicitly say so, it also hinted how it wanted that new branding to be displayed on its future devices, completely leaving out any "Lumia" marking from the front or back of the device. An entry in China's TENAA office seemingly confirmed that as well.
Although it may seem strange that Microsoft actually cut off any physical manifestation of the Lumia name on the device, it might also be the best forward-looking strategy. Given how the company has been arduously rebranding its products, there might come a time when it actually decides to abandon even the Lumia moniker, so it's a safer bet just to put the company's name there, which is unlikely to change.
Other than the branding change, there is little we know about the upcoming Lumia smartphone, which is quite frankly an unexpected device. Given the similarity of the colors, we can presume that the phone on Microsoft's teaser is the same RM-1090 found earlier in TENAA's database. Now that the cat's out of the bag, however, we do expect to see a sudden rush of leaks and rumors about the smartphone in the days ahead.