Microsoft: Surface tablets perfect for Skype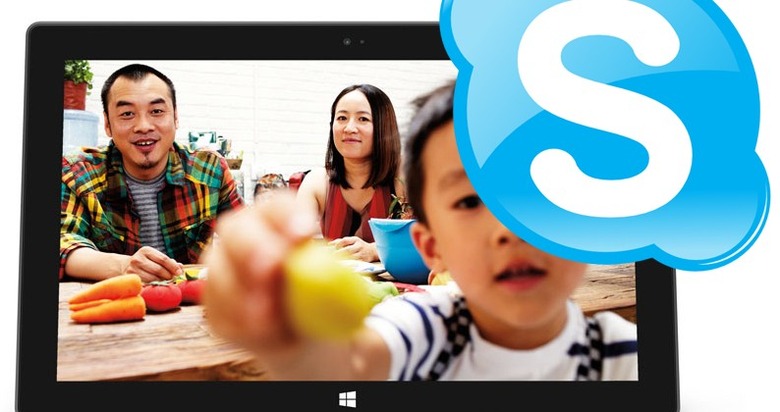 Microsoft may only have launched its Surface tablets a matter of hours ago, but the company is already making the connections with the rest of its ecosystem, including Skype. The VoIP service Microsoft acquired in recent months gets a specific name-check on the Surface site, with the promise of two LifeCam webcams along with dual microphones that are "tuned for Skype" as the company mounts a direct challenge to Apple's FaceTime.
"Surface has not just one, but two cameras" Microsoft promotional material reads. "Use the front LifeCam to chat with the people that you care about. The rear-facing LifeCam is angled to 22 degrees so you can flip out the Kickstand and record meetings and events hands-free. Stereo speakers and dual microphones tuned for Skype help you sound like you are right next door."
The resolution of the two cameras is unspecified – Microsoft's standalone LifeCam range spans the gamut from VGA through to Full HD 1080p quality – though we'd guess at a mid-point of 720p for the Surface slates. Microsoft is also yet to reveal whether either the Windows RT or Windows 8 Pro versions will have integrated WWAN 3G/4G options, for making Skype voice and video calls on the move.
Of course, there's more to Microsoft's portfolio than just Skype, and so we're expecting to see talk on Xbox LIVE being heavily integrated too. Xbox SmartGlass is already designed to run on Windows 8/RT tablets, and so it will come as little surprise to see companion gameplay with the Xbox 360 positioned as one of the Surface tablets' key strengths.