Microsoft Stores issuing Surface launch day reservations

Microsoft Stores are reportedly taking reservations for the company's Surface tablet, promising to hold stock for eager early-adopters hoping to pick up one of the Windows RT slates on Friday next week. The voucher, apparently being handed out at Microsoft Stores and pop-up stores according to WPCentral, is only valid on October 26 and doesn't appear to specify which Surface it can be exchanged for.
That would apparently mean that even those with reservation passes may need to get to their local store early if they want to be confident of snagging the Surface bundle of their choice. Microsoft will be offering three versions of that bundle: the cheapest 32GB model, at $499, followed by a $599 with the 32GB tablet and the black Touch Cover, and then finally the $699 64GB version only available with the black Touch Cover.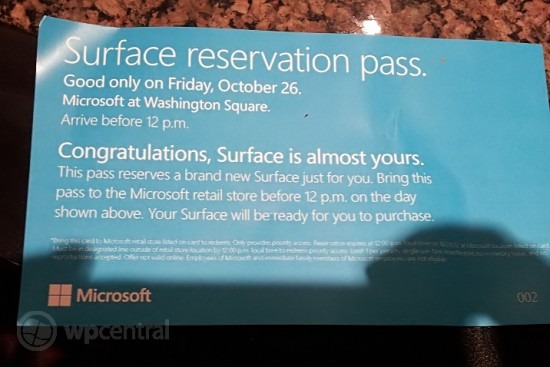 If you want a different colored Touch Cover, that's sold separately at $119.99, and right now there's no way to get a 64GB Surface and a different color touch-keyboard. The reservations process is only valid until 12pm and only at the store which issued the voucher, with one voucher accepted per person.
Online demand for Surface has already seen the cheapest version sell out online, though with no confirmation on exactly how much stock Microsoft had, it's unclear whether that's a great sales success or otherwise. There's more on the development of Surface in our behind-the-scenes tour with Microsoft.