Microsoft sells out of $499 Surface RT pre-orders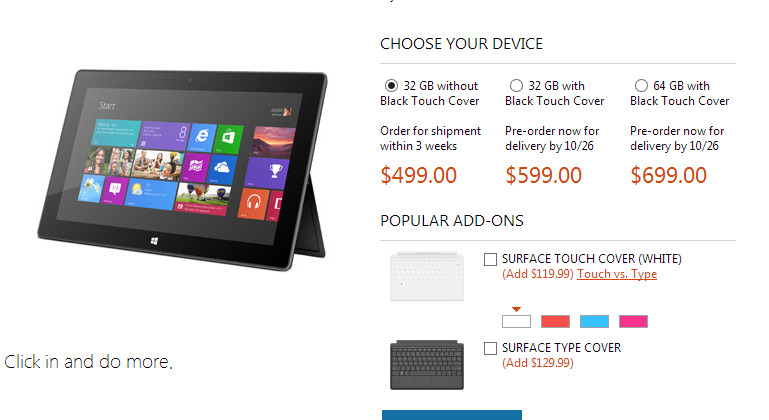 Microsoft's Surface tablet has generated a massive buzz over the last few weeks, culminating in the lowest priced option, the $499 32GB tablet sans-cover, having already sold out in pre-orders. The device was opened to pre-orders yesterday, and is now backordered by three weeks. For now, the other two models are available for shipping on October 26th.
At first glance, this is a bit of a head-scratcher. The $499 model Surface doesn't include the cover, which is a pressure sensitive keyboard that doubles as a trackpad. This essentially means that a whole lot of buyers purchased a rather expensive tablet running Windows RT, missing out on half of the Surface experience. It's worth noting that the next model up includes a black cover, so it's possible that many buyers elected to buy a different color cover separately. We also don't know what Microsoft's initial supply numbers were, throwing a variable into the mix.
The $599 Surface RT has 32GB of internal storage space, and includes a black cover. The $699 model features 64GB of internal storage sapce, and also includes a black cover. For those who want something a bit more colorful, a type cover can be purchased separately for $129.99 in blue, pink, or red. A white touch cover can be purchased for $119.99. The type cover resembles a normal laptop keyboard, and includes a full set of function keys.
Microsoft declined to offer specifics. When asked about the number of units sold, the spokesperson said, "No numbers to share, the $499 one is now on back order so that means the SKU is out but all three SKUs will be ready for launch day." While time will tell whether the Surface ends up being a hit for Microsoft, it certainly is off to a good start.
[via Computer World]