Microsoft Red Xbox 360 gets video unboxing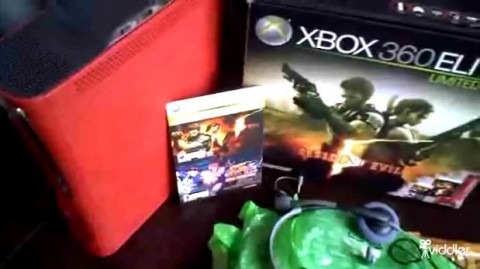 How turned on you are by the Microsoft Red Xbox 360 Resident Evil Limited Edition does really depend on your attitude both to the color red and the game Resident Evil 5, but in case you've been wavering on the fence there's now an unboxing of the whole bundle.  Major Nelson, who does actually work for Microsoft, is today's lucky unboxer.
Frankly there are no great surprises along the way, but then you wouldn't particularly expect there to be.  In the box there's the red console itself – which is certainly very red, apart from the top which isn't – and the color-matched controller.  Everything else is standard fare, with a black 120GB hard-drive and the standard component, HDMI and ethernet cables.
In fact, what we'd really have liked to have seen is the "exclusive" Resident Evil theme that buyers will be able to download from the Microsoft LIVE service, but Major Nelson neglects to plug his red 360 in, never mind turn it on and go online.  You'll be able to pick up the Microsoft Red Xbox 360 Resident Evil Limited Edition on Friday March 13th, priced at $399.
[via CrunchGear]