Microsoft readying own-brand Windows tablets tip insiders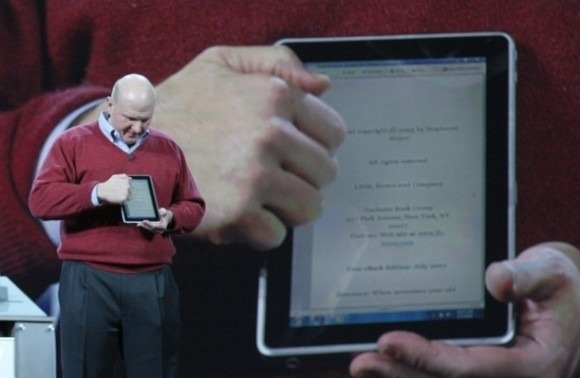 Microsoft is readying its own Windows 8 tablet, insiders claim, potentially the first of several models running x86 and ARM processors in an attempt to better challenge Apple's iPad. The new slates are said to be the logical conclusion of Microsoft's struggles to differentiate Windows in the tablet market, AllThingsD's sources say, with the company designing both hardware and software.
Some of the tablets would run Windows 8, the full version of the next-gen operating system, it's claimed, on x86 processors from Intel and/or AMD. Others, meanwhile, would get Windows RT, the version previously known as Windows-on-ARM, and use low-power chipsets presumably from Qualcomm, Texas Instruments, NVIDIA or others.
Although Microsoft is no stranger to hardware – it has a well-respected line of PC peripherals including keyboards and mice, along with the ill-fated Zune and KIN ranges of media players and social-centric budget smartphones – it has historically avoided directly competing in computing with its Windows licensees. Entering the tablet market itself would change all that, putting Microsoft and OEMs in the uncomfortable position of being both supplier/customer and direct rivals.
That's not entirely unusual – Google has done something similar with its Nexus program of smartphones, pairing up with a hardware provider and releasing a line "pure" Android smartphones – but with Windows tablets already playing catch-up it's not clear whether Microsoft's OEMs will respond gratefully. An attention-grabbing "flagship" could drive up interest in Windows tablets all round; after all, HP's Windows 7 tablet didn't exactly benefit hugely from being shown off personally by Microsoft CEO Steve Ballmer, so whether being selected as the center-piece of the software company's strategy is the golden goose it's assumed to be is questionable.
Microsoft has a special event on Monday, June 18 in LA, where the company has promised a "major announcement", though it's unclear whether this is an own-brand Windows tablet reveal or something else. SlashGear will be there to bring you back all the news.