Microsoft News Pro takes on Apple News with a focus on work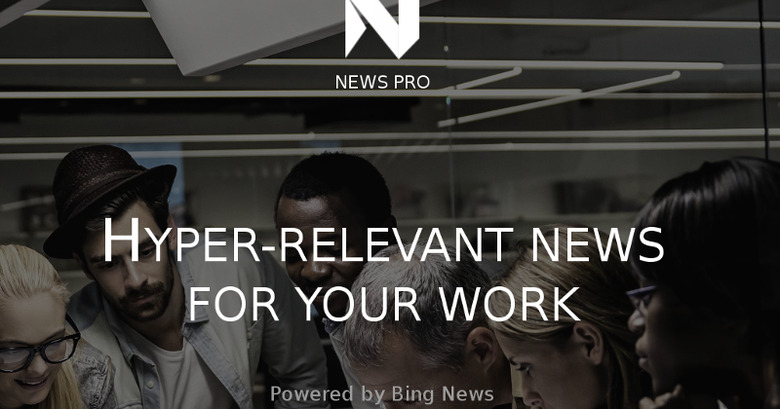 Microsoft has been developing mobile apps for platforms other than its own, mostly through its Garage skunkworks arm. Most those apps land primarily on Android but when it does put out something for Apple's iOS, it's sometimes a mix of strange and beautiful. Like that odd selfie app. Now, out of the blue, Microsoft has launched a new News Pro service, coming from Garage, that is available both on the web and on iOS. It is almost like a jab at Apple News or even Flipboard, except that it tries to focus on work-related content scoured through Bing.
A more focused mission might give News Pro a distinct flavor, but it is still sure to run afoul of many competitors. Especially considering the timing of the launch. Apple was just recently tipped to be eying adding paid content to the service. In contrast, Microsoft News Pro is free. At least for now.
Unlike Apple News, Flipbord, or Feedly, News Pro doesn't embrace every topic under the sun. Or actually, it does but it doesn't try to bombard you with everything all at once. It curates content based on what could be of possible interest to you based on your career. And how does it know that? You'll have to login via Facebook or LinkedIn to be able to properly use the service. And then it will ask you the industries you're interested in.
The mobile interface of News Pro is quite spartan and almost reminiscent of the likes of Flipboard. You have three main tabs for Home, Explore, and your own Profile. Home, unsurprisingly, surfaces the most significant news of the day, based on your work-related interests. Explore lets you dig around a bit, both through a normal "browse" area as well as a Pilot tab, where you can narrow down topics even further. Reading the news items themselves is a familiar affair, offering both a full-blown detailed web page as well as a "Speedy" reading view. Which news is relevant or not is all determined by Bing, making News Pro just as much a showcase for Bing's powers as it is Microsoft's ability to make iOS apps.
Although perhaps almost redundant in an age of many news reading services and apps, Microsoft's News Pro might still find a niche among professionals, especially those who have an inclination towards Bing's search results more than other engines. Given how potentially useful it might actually be, it's interesting that Microsoft Garage didn't make an Android app, much less something for its own Windows 10 platforms, both desktop and mobile. Again, that might play into the Apple News angle. That said, News Pro does have an equivalent, though probably less exciting, web app version, so they aren't exactly left out of the fun.
SOURCE: Microsoft