Microsoft May Reveal First Nokia Windows Phones On August 17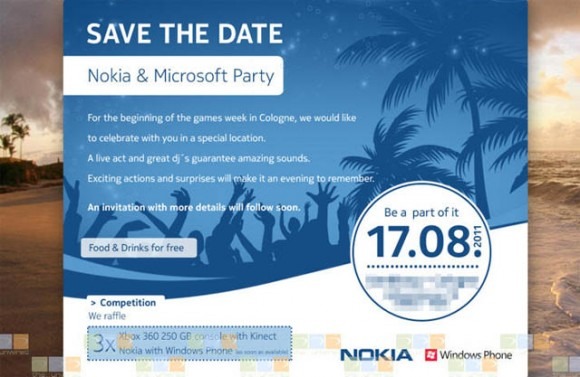 Microsoft and Nokia have announced that they are holding a joint event later this month in Cologne, Germany. The party is set for August 17 and promises "exciting actions and surprises" that will make it an evening to remember. Free food, free drinks, live act, and DJ, what else could you ask for? Well, maybe Nokia's first Windows Phone Mango device?
Microsoft's Windows Phone Mango update was recently released to manufacturing, which supports a rumored September launch of various Mango devices. A Fujitsu-Toshiba handset with Mango has already been officially revealed, but it's set for a Japan-only release.
Nokia's Mango device, codenamed the "Sea Ray" was leaked in June when Nokia CEO Stephen Elop unveiled the handset in an internal meeting. The device appears near identical to the Nokia N9 that runs on the MeeGo OS, featuring a sleek button-less front-face covered with gorilla glass on a pillow-shaped body sporting an 8-megapixel camera with Carl Zeiss optics. Another video of the Sea Ray surfaced later on showing it already running a Windows Phone Mango build.
Nokia has said that the phone has been well received by those that have gotten an early hands-on with the device, and he expects it to launch in six European countries first, which includes France, Germany, Italy, Spain, UK, and the Netherlands.
[via WinRumors]