Microsoft Kinect detailed; new Xbox 360 Slim leaks on video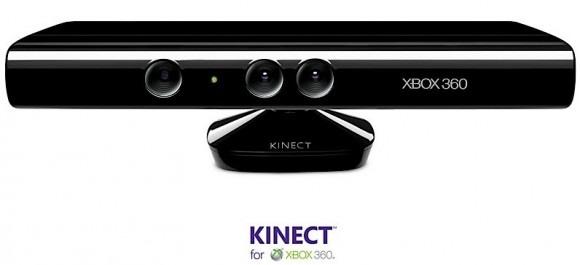 So, Project Natal has become Microsoft Kinect, and the company has spilt the beans on their new motion gaming system for Xbox 360.  The Kinect hardware looks little changed from what we've seen in promo shots up until now, though with a change of color from white to black, but we now have more idea of what sort of games will be offered.  Meanwhile an Italian advert has apparently scooped Microsoft to showing off their new Xbox 360 Slim design.
The Kinect bar – which uses various sensors to track movement – can also be used to share photos and videos (with up to four people in Microsoft's demo, apparently), but of course its main purpose is gaming.  Microsoft showed various single-player titles, including Kinect Sports which allows you to "kick" or "hit" balls, a Star Wars game where, as you'd expect, you wield a light saber, and Dance Central from MTV Games which requires you to physically mimic dance moves in the correct order.
For those less enamoured of mainstream gaming, Microsoft also showed Kinect working with a yoga title – that could check whether you're in the correct posture – and "Kinectimals", a title where you can pet and play with a baby tiger.  Rather than demanding users pick up a traditional pad whenever they want to navigate the menus, Microsoft have developed a gesture/motion controlled version of the Xbox Dashboard.
As for the Xbox 360 Slim, which you can see in the video below, it's unmistakably a 360 but looks a little more purposeful and Stealth Bomber styled than the current curvy version of the console.  We're guessing we'll hear plenty more about it – and Microsoft Kinect – at E3 this week.